Defected's inaugural Ibiza Festival is taking shape, with the label today announcing four of the five venues where parties will take place between Thursday 14th – Monday 18th May.
After throwing parties on the island for 20 years, Defected have secured some of the island's most in-demand venues for the four-day event. Along with their annual residencies at Café Mambo, Eden and Hï Ibiza, the label will host parties at stunning open-air venue Cova Santa and Ibiza town's spectacular HEART club, as well as throwing a secret day party at one of the island's hottest beach clubs.
Kicking the festival off on Thursday evening at Cova Santa (6pm-12am), this quintessentially Balearic venue is the perfect location to set the tone of the festival, known for its infamous Music On afterparties, the idyllic countryside setting makes it a uniquely magical location for getting the party started, as stunning surroundings and lush gardens house an impressive soundsystem.
Friday sees Defected's opening night at Eden (12am-6am), with a sunset session at Café Mambo to warm things up beforehand. Returning to the San Antonio club for its fourth season, the label's weekly parties and pre-parties at Café Mambo have become one of the island's biggest success stories.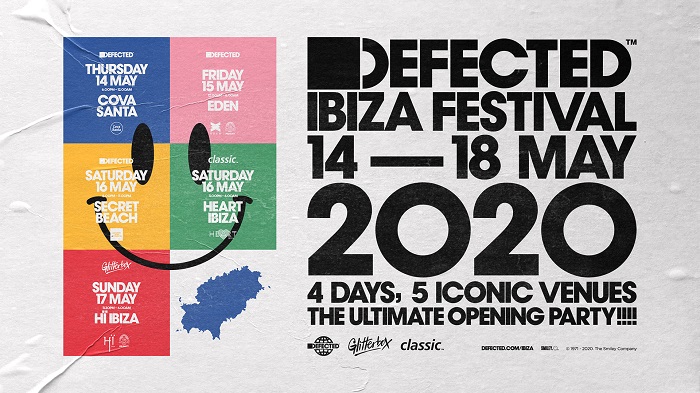 With the day to recover from Friday night's events, Defected's beach party will start at 5pm (running until 11pm) at a secret beach location, before all roads lead to Ibiza town for Classic Music Company's takeover of HEART club (11pm-5am). Channelling Ibiza's long-held attitudes of free-spiritedness and open-mindedness, it makes the perfect location for Classic's event, where they label aim to unite all on the dancefloor, while showcasing the full might of their incredible roster.
The final day of the festival is all about Glitterbox, where the unstoppable nightlife movement will be delivering a heavy dose of disco hedonism to San Antonio with a sunset pre-party at Café Mambo, before heading to spectacular Playa d'en Bossa club Hï Ibiza (11.30pm – 6am). Known for its jaw-dropping production, Glitterbox's drag queens, club kids, performers and dancers bring the Glitterbox ethos to life, as the authoritative soundtrack of party-starting nu disco, vocal house and classic anthems takes the party through till sunrise.
Tickets for Defected Ibiza Festival 2020 are on sale now. Combined festival pass and accommodation packages available via link.