Bilbao BBK Live reveals the complete lineup for its 2020 edition, adding 54 new superstar artists to the already stellar programme. More than 93 artists are set to perform across the 3-day festival, which takes place from 9th – 11th July in Bilbao.
Diversity and quality are the key components of the festival's programme, promising an expansive selection of genres and styles . Alongside globally renowned artists, Bilbao BBK Live also showcases a carefully selected offering of up-and-coming talent ready to be discovered.
This new announcement incorporates fast-rising Dublin band Fountains D.C., whose post-punk sound and quality songwriting has deservedly won them legions of fans around the world.
Next up, DJ and prodiction duo Bicep, whose open, no-holds-barred to music has seen them carve out a reputation as crate digger extraordinaire and their live shows never fail to impress.
Also joining the bill today is producer, multi-instrumentalist, composer, director and vocalist Blood Orange, undoubtably one of the most influential voices in music today. Add to this, German techno marching band Meute, the unclassifiable music of Moses Sumney with his unique and distinctive falsetto, the mysterious masked cowboy Orville Peck and the always transgressive La Casa Azul, who will once again invite us to dance like there's no tomorrow in Kobetamendi.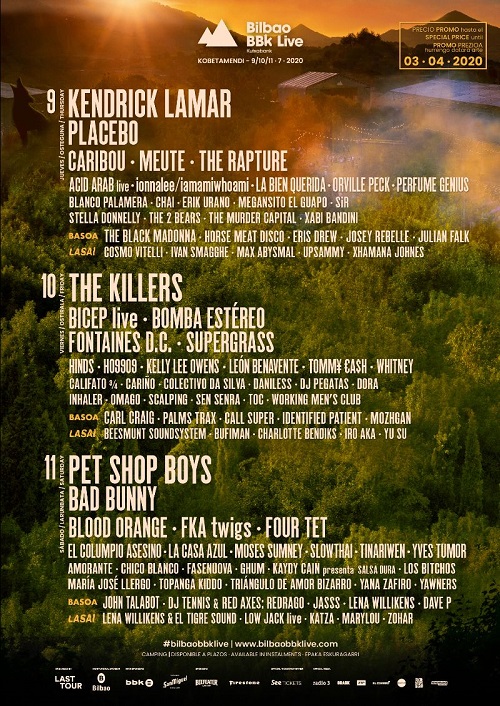 Basoa
Basoa, which celebrates its fifth anniversary in 2020, is Bilbao BBK Live's dance music space, committed to enjoying electronic music to the fullest. An enchanted forest location that invites revellers to escape and fully embrace the sound. Basoa is a collective celebration, both for those who come to Kobetamendi in search of these sounds and for those who want to experience it for the first time, in a diverse, inclusive and respectful environment.
Like last year, Thursday is once again a big day for for the LGBTQ community with The Black Madonna, Horse Meat Disco and Eris Drew all stepping up for DJ sets. Josey Rebelle's melting pot of music also tops the bill, along with Julian Falk who will play the opening set at Basoa this year.
Friday sees electronic music visionary Carl Craig headline, joined by an impressive roster of talent including modern-day heroes Palms Trax and Call Super, Dutch selector Identified Patient and Iranian DJ Mozhgan.
After two consecutive years, Barcelona DJ and producer John Talabot, is once again the protagonist of one of the most special moments of the festival, the closing set of Basoa. Combining the energy of disco, the sensuality of house music and the melodic touch of indie-pop, it is always a pleasure to welcome him back to Basoa. Redrago , the joint electronic project of Red Axes and DJ Tennis, offer up a psychedelic disco proposal of Italian music and Israeli trance rock, Silvia Jiménez, aka Jasss also stars, along with the unmistakable sounds of Lena Willikens and the inimitable Dave P.
Lasai
With the premise of not exceeding 100 bpm, the rhythm at which the heart beats, Lasai is the place to slow down in a privileged location, surrounded by cypress trees, away from the hustle and bustle of the festival and with impressive views overlooking the city of Bilbao. The Lasai programme has two guest curators in this edition. Saturday's lineup has been curated by Lena Willikens, while Thursday and Friday will be hosted by the online station Red Light Radio, who will also be streaming and recording the Lasai sessions.
Lasai will make you dance at low revolutions to the intense, dark and psychedelic music of Charlotte Bendinks and explore the limits of mid-tempo dance with French DJ and producer Cosmo Vitelli.
Dancehall music, sound art and techno territories will be explored by Low Jack (Philipphe Hallais) and the most atmospheric feel will be provided by DJ, composer and producer Yu Su and by French artist Marylou. Spanish talent will be represented by Katza, co-founder of the Basque collective Paraleloan and Barcelona duo Iro Aka.
Ivan Smagghe, will make the dance floor shine with his darkest electro house tracks. There will also be room for the industrial beats with 90's roots of the Dutch Zohar, the disco tribal grooves with powerful drum sounds of Bufiman, the dark and sophisticated techno and deep house of Xhamana Johnes and the unique fusion created by the Dutch Beesmunt Soundsystem.
The list continues with emerging artists from the Dutch underground scene such as Upsammy and Max Abysmal, along with Lena Willikens, who on this occasion will be working hand in hand with El Tigre Sound, for a unique and unexpected live performance.
A large, diverse and quality lineup
Watch out for performances from cult band Ho99o9, Californian rapper SiR, Bristol band Scalping, The 2 bears, Los Bitchos, Working Men's Club and Ghum.
Rounding off today's announcement is a vast collective of Spanish talent, including Sen Senra, Fasenuova, Colectivo Da Silva, Yawners', Megansito el Guapo, Topanga Kiddo, Blanco Palmera, Daniless, DJ Pegatas, Amorante and TOC.
The 15th edition of Bilbao BBK Live will take place on July 9th, 10th and 11th 2020 and, like in previous years, the campsite will feature a privileged location on the top of Mount Arraiz, ideal for nature lovers who come to the festival from outside Bilbao.
Tickets are on sale now via link.