51st State Festival has revealed its first lineup announcement for 2020, celebrating its sixth year with some of the most defining figures in house music and its associated genres.
This year's truly transatlantic programme is led by a trio of New York's finest house acts: Stealth boss and Grammy-award winning producer Roger Sanchez will join the Trent Park party alongside an exclusive London festival performance from preeminent production/remix team Masters at Work as well as Body & Soul (François K, Joe Claussell and Danny Krivit), the trio who transformed a six-year long club night into a global dance staple.
The New York natives will be joined by fellow house music royalty Todd Terry, House N' HD (Terry Hunter and Mike Dunn), Eli Escobar and the French ambassador of the genre Dimitri from Paris.
Representing the other cradles of dance music, Detroit don Derrick May will rock the festival's foundations with his pioneering techno along with Ibiza regulars Amine Edge & DANCE, who will bring their unique blend of hip hop infused deep house. The festival will also be joined by a very special guest, announced in late March.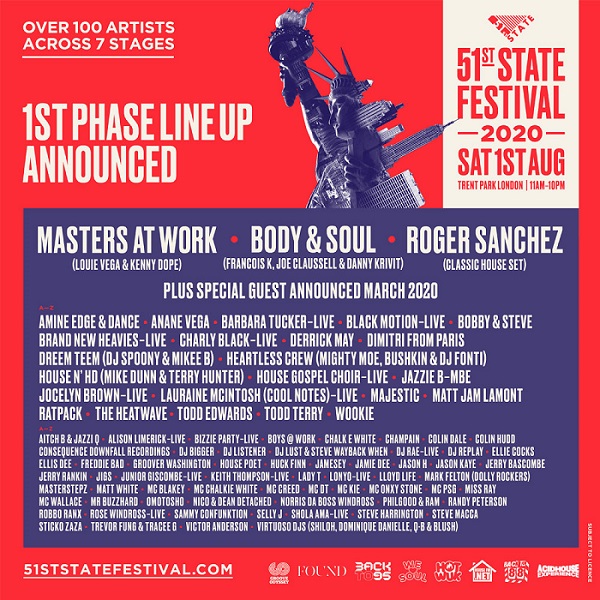 Live and direct, US R&B & House royalty Jocelyn Brown will deliver a soul-raising set, performing smash hits like her iconic 'Somebody Else's Guy', while The Brand New Heavies will be keeping the funk alive with a touch of 80s magic. Soul II Soul founder Jazzie B will also be on hand with his era defining club-ready take on soul, as well as show-stopping diva Barbara Tucker and The Cool Notes' Lorraine McIntosh.
Adding a Jamaican edge to the festivities, dancehall champion Charly Black, who will make his only London festival performance of 2020 at 51st State, and sound system crew The Heatwave will be sure to have everyone moving.
Flying the flag for UKG, the bass will be pumping all night long courtesy of sharp cuts from stalwarts of the scene Wookie, Matt Jam Lamont and Majestic. Collective Heartless Crew will also be in effect alongside the Dreem Teem's DJ Spoony and Mikee B and sample master and Daft Punk collaborator Todd Edwards.
Following a sell-out 5th birthday in 2019, the festival will return to Trent Park on 1st August with a greater range of food vendors and bars throughout the site. The VIP area will also receive some special treatment with an extended viewing platform, complimentary massages, glitter, a vanity area, and photo booth, all soundtracked by House FM DJs. Entertainers like the dazzling Mirror men and the shakin' soca dancers will also make their return, alongside an expanded range of to-be-announced pop up stages showcasing more genres than ever before.
Tickets are avaliable here.