Record-breaking sales for the world's best live streaming music platform, Cercle. Their upcoming 2-Day music festival at the National Air and Space Museum of France in Le Bourget, Paris is completely sold out!
There are very few music festivals in the world that are as in-demand as this one is, and the sales prove it. Believe it or not, tickets on the general worldwide sale for Cercle's second music festival in Paris, France sold out in just 34 minutes. Just like other massive festivals, pre-registration was needed in order to snatch tickets.
If you were lucky enough to grab a ticket, congratulations. If not, Cercle will stream live to the world as it's done for all of their previous events.
This streaming platform is taking Facebook and the world by storm. Cercle is becoming the premier live stream platform dedicated to quality media and the promotion of artists and venues. The company films and broadcasts DJ sets and live performances on Facebook for our viewing pleasure. What sets Cercle above the rest are the carefully selected and unique locations used for these broadcasts.
The lineup for Cercle's long anticipated 2nd music festival has been revealed and got us already all excited! Their team do a fantastic job of knowing how to spread out the web of dance music throughout their music events, displaying the many sub-genres that make up dance music while giving something for everybody, in top form.
As expected, their stellar lineup includes the biggest names in the industry such as Adana Twins, ARTBAT, Amelie Lens, Acid Pauli, Black Coffee, Charlotte De Witte, Pan-Pot, Recondite, Maceo Plex, Monika Kruse, Johannes Brecht and many more plus a very special Cercle All Stars performance which probably will also include some surprise guests.
Check out the full lineup below!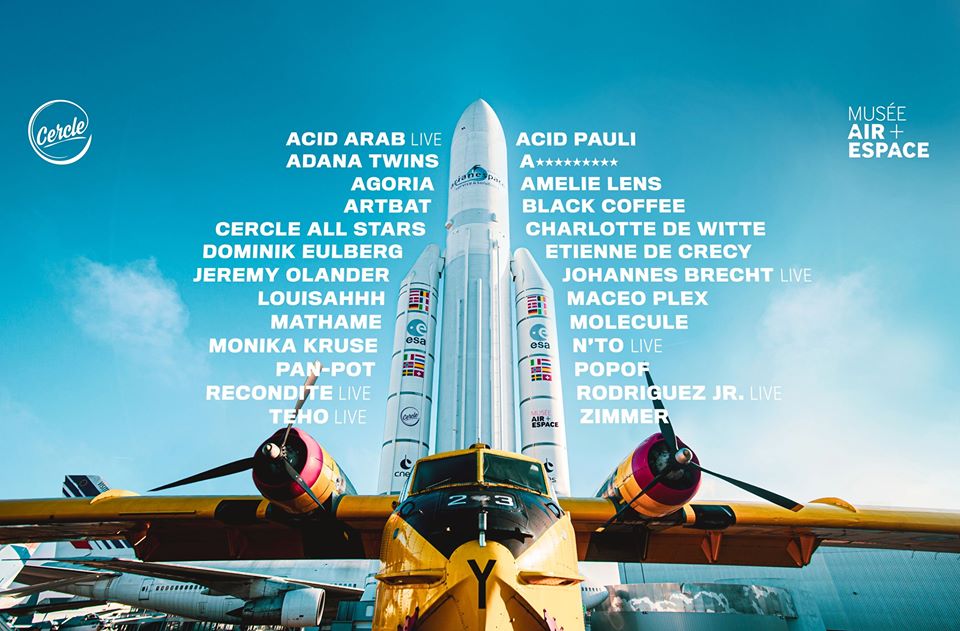 This May 30 – May 31 the grounds of the National Air and Space Museum of France in Le Bourget, Paris will be transformed into a magical gathering featuring some of the most amazing artists on the planet.
Find out more information about Cercle Festival HERE!