After bringing together more than 25,000 people, Zamna Tulum returns with its new winter season 2021 in which it will increase the schedule and will offer 10 daytime events and 10 nighttime events.
The most renowned brands and artists in the electronic music scene will be in Zamna between the 31st of December 2020 and the 16th of January 2021.
Zamna Tulum has become in the last years in one of the most renowned and recognizable places on the international electronic music map. Its main attraction is the set up of huge stages in the middle of the jungle combined with a top-class musical line-up that has made this venue a mandatory stop for every electronic music lover worldwide.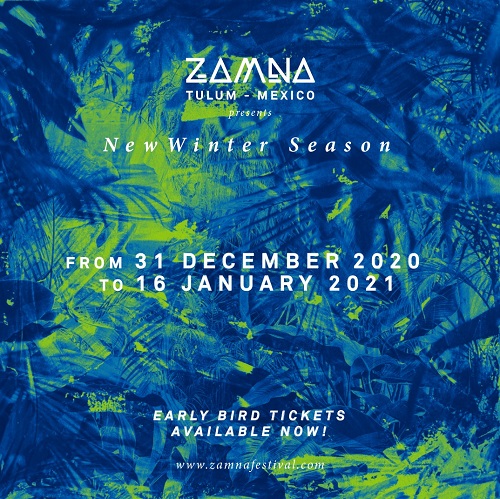 Zamna currently has a constant music schedule throughout the year, but without hesitation, its peak time is the Winter Season. Something that its owners know very well, therefore, they have decided to increase the events schedule for the next edition, which will take place between the 31st of December and the 16th of January.
More days during which they will offer 10 daytime parties and 10 nighttime parties, which will mix beach and jungle vibes once more. The main figures of the international electronic music scene will return to Tulum thanks to Zamna, and judging by its previous line-up in which brands and artists such as Afterlife, Renaissance, Paul Kalkbrenner, Black Coffee and Artbat were part of it, the next edition promises more and better surprises.
A very limited number of first Early Bird 3-Day Multi Pass Tickets are already available at the reduced price of 150$, including the free election of three of the events.
You can buy your 3-Day Multi Pass Early Bird here.