Insomniac announced the expansion of Beyond Wonderland to its fifth U.S. destination, bringing the fan-favorite adventure through Wonderland to the Pacific Northwest.
Teased last month by Insomniac Founder and CEO, Pasquale Rotella, Beyond Wonderland marks Insomniac's first event in the region in nearly a decade, debuting at The Gorge Amphitheatre on Friday, June 12 and Saturday, June 13.
With three nights of camping and two days of music, art and exploration across one of the most scenic and beautiful concert venues in the world, the first edition of Beyond Wonderland at The Gorge will bring a unique and whimsical atmosphere with surprises around every corner.
During the two-day festival, Headliners will take a journey with Alice into her psychedelic storybook, a place beyond attendees' imaginations. The festival will bring an immersive atmosphere, magnificent sights and sounds, cutting-edge production, art installations, interactive experiences and more that have made Beyond Wonderland a beloved brand across the world, captivating nearly half a million fans since the event debuted in Southern California in 2010.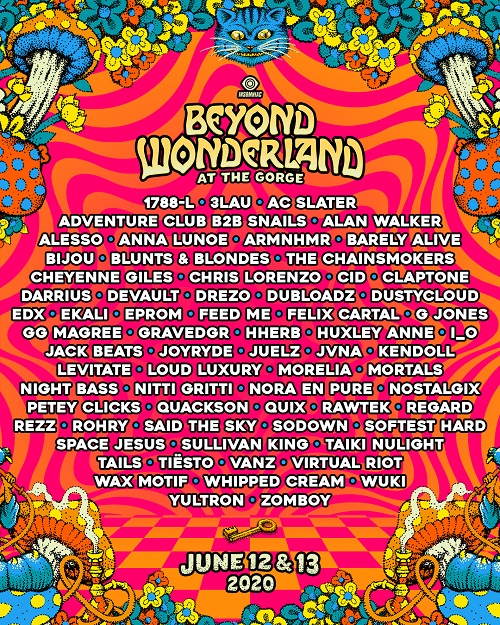 Insomniac will celebrate their return to the Pacific Northwest with globally renowned artists encompassing many genres, including bass, trance, techno, trap, house and hardstyle. Headliners will experience incredible performances by diverse artists across three larger-than-life stages. 3LAU, Alesso, Loud Luxury, Nora En Pure, Rezz, The Chainsmokers, Tiësto and more will welcome festivalgoers on an unforgettable journey into the whimsical world of Beyond Wonderland. Additional artists will be announced at a later date.
Headliners will also be able to sleep under the stars, calling The Gorge home with convenient, three-night camping experiences available. Through sprawling acres of grassy fields, set against the backdrop of the Columbia River, Headliners will join an enthusiastic community of thousands of campers as they enjoy day and night entertainment from morning yoga sessions to Silent Disco parties until sunrise. Tent and RV camping spots are available, as well as incredible turnkey camping options that include lakeside and waterfront accommodations.
Beyond Wonderland Pacific Northwest 2020 Camping packages include:
–Fox Den – Standard car camping with room for one vehicle and one 4-6 person tent in a 15'x25′ space. Available for $109.50 plus taxes and fees.
–Cheshire Cove – A premier, 18'x40′ camping space with superior views across The Gorge for one tent, car, or RV in a designated area accessible to only those in premier camping. Available for $219 plus taxes and fees.
–Acorn Village – An oversized, 24'x50′ campsite closest to the festival grounds for one tent, car or RV. Available for $319 plus taxes and fees.
–Castle Crossing – An 18'x40′ campsite in a private and quieter area of the campgrounds, complete with concierge services and complimentary morning pastries & coffee. Available for $429 plus taxes and fees.
–Royal Shipyard – An elevated camping experience complete with bag service, a furnished canvas tent, 24/7 concierge service, bath products and towels, air-conditioned showers and restrooms, along with exclusive access to BBQs, live TV, video games, and more. Headliners may inquire directly about pricing options.
–Owl's Nest – Includes a Gorge-branded tent for 2 people, 2 single-sized air mattresses, 2 Gorge-branded sleeping bags, 2 pillows, and 1 tent lock, along with access to a propane grill and private restrooms. Available for $599 plus taxes and fees.
–Queen's Ravine – A glamping package complete with turnkey accommodations, private restroom and shower facilities, dedicated concierge service, and complimentary coffee & pastries each morning. Available for $949 plus taxes and fees.
Festival admission is not included in any camping package and must be purchased separately.
Tickets for the 18+ event will go on sale Thursday, March 5 at 10 AM PST via a link. Tier 1 pricing will begin at $179 for GA, $219 for GA+ and $349 for VIP, plus taxes and fees. VIP tickets are only available for Headliners who are 21+. Layaway deposits begin at just $19.99.