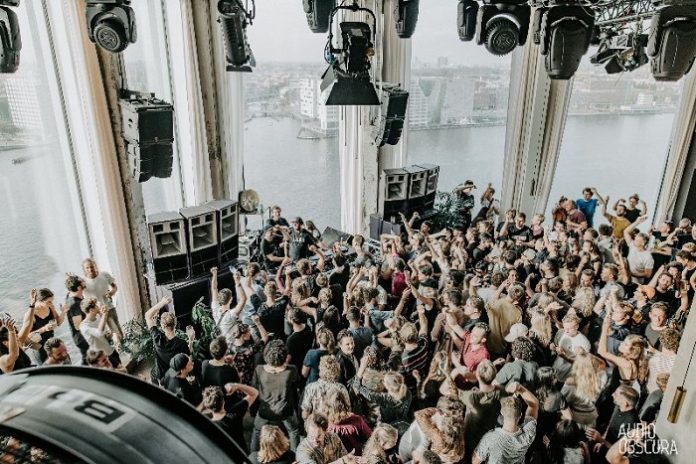 With everyone having to stay home for the sake of the health of humanity, Audio Obscura decided to step in to raise money for the World Health Organisation and its partners.
They are partnering with A'DAM Toren who made sure the beautiful The Loft could be the scene for the special Livestream series called "Audio Obscura Sunset – Charity". By doing this they also give back to the visitors around the world who are faced with canceled shows everywhere. The best part: while enjoying the breathtaking Livestream, they can actually contribute to the response to the pandemic that is caused by COVID-19.
With stunning panoramic views of Amsterdam during golden hour in the background, the viewers can donate to The COVID-19 Solidarity Response Fund, which is set up by The United Nations Foundation and the Swiss Philanthropy Foundation to support WHO and its partners who are helping countries to prevent, detect, and manage the most recent coronavirus.
Every day a renowned Netherlands based artist will perform from 5:15 PM till 7:15 PM CET to support this good cause.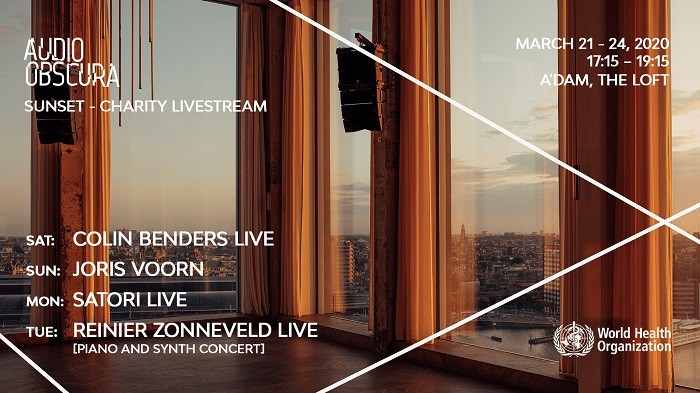 On this atypical Saturday, the first stream will kick off with the phenomenal Colin Benders who will showcase a hypnotizing live set using his modular synthesizers. The Sunday will be taken over by none other than Joris Voorn, a longtime friend of Audio Obscura and that's not without reason.
On Monday, live act Satori will give us one of his infamous energetic performances. To make the occasion even more special, he will premiere his brand new album. To close this remarkable series off in style on Tuesday, techno giant Reinier Zonneveld will treat the audience to something very special, nothing like he has done before. No hard bass this time around, but an enchanting live performance from this multi-talent combining synthesizers, drum computers and a piano. It will be experimental for sure but as always only music he composed himself. We are in for a treat.
With the sets being streamed by NOMOBO and reminiscing the legendary sunset sessions Audio Obscura has thrown in the past, where artists performed covered in a golden hue of sunlight, this live stream series is set to be nothing short of spectacular. So be sure to tune in and support the World Health Organization in these crazy times. Together we can do this.
Please get on board and share the Livestream to ensure as many people as possible can watch and donate to WHO.
Watch via: Audio Obscura Sunset – Charity here.