This past Friday and Saturday night, Headliners from over 100 countries as well as cities throughout the US tuned in to Insomniac Events' YouTube channel from 8pm to midnight to experience the first-ever Beyond Wonderland Virtual Rave-A-Thon.
The lobby of Insomniac's LA headquarters was transformed into a fully themed Wonderland stage—decked out with effects, lighting and lasers—while a small livestream crew captured performances by 4B, Audien, Dr. Fresch, Drezo, Elephante, Jack Beats, JOYRYDE, JSTJR, Kill The Noise, Loud Luxury, Mija, MONXX, Party Favor, SAYMYNAME, Schade, SVDDEN DEATH, and Wax Motif.
"The energy that came from everyone who tuned in from around the world was unlike like anything I've ever witnessed in the 25 years of me starting Insomniac," said Insomniac Founder and CEO Pasquale Rotella.
"Fans of all ages, families with their kids and grandparents, friends connecting through FaceTime across the globe, all throwing raves in their bedrooms. There was so much love coming from all different directions. We're now planning a calendar of Rave-A-Thons that I'll personally announce very soon."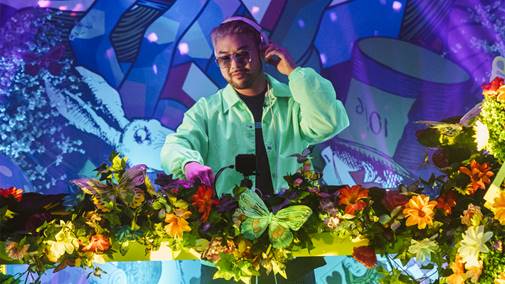 Reminding the community to "Stay Home, Stay Safe and Stay Positive," Rotella performed short interviews with each DJ before their sets, reading off comments from Headliners around the world who were sharing photos and videos online that had #VirtualBeyond trending in the Top 3 on Twitter in throughout the weekend.
After the 10th annual Beyond Wonderland SoCal was rescheduled for June 19 and 20 due to the effects of the global pandemic, Rotella took to his Instagram and announced that the company would be creating a "virtual rave" during the original weekend dates so Headliners could still experience festival vibes while staying safe at home.
Just a few days later, the lineup dropped on Beyond Wonderland's Instagram. Streaming live on YouTube and broadcast on Twitch and Huya, the Virtual Beyond Rave-A-Thon featured no shortage of memorable moments, including three Headliners who showed up outside of the Insomniac offices dressed in full festival gear and wearing their Beyond Wonderland SoCal wristbands.
House music tastemakers Wax Motif and Dr. Fresch kicked off each night with high-energy performances as text bubbles on the Livestream encouraged fans to put "Sanitized Hands Up!!" Highlights included full feels anthemic performances from Audien and Elephante, an eclectic, nonstop session from Party Favor, as well as bumping house sets from Jack Beats and Drezo that had Rotella getting down on his own personal dancefloor.
JSTJR mixed together a high-energy set that included everything from Alice Deejay's "Better Off Alone" to a hardcore drum 'n' bass re-lick of Snoop Dogg's "Gin and Juice," while SVDDEN DEATH's dubstep onslaught had Insomniac's livestream engineers headbanging from the control room.
Former Insomniac Discovery Project winner SAYMYNAME ended Friday with an encore performance featuring his signature hard trap sound, and JOYRYDE closed out night two with never-before-heard material from his forthcoming full-length album before Rotella encouraged him "keep playing to 6am." At a time when the dance music community needs a little love and unity, the Virtual Beyond Rave-A-Thon delivered an experience that all who took part in it will never forget.
In addition to featuring the sets via link, Insomniac is currently broadcasting classic sets and festival footage from its vast archives, including performances from EDC Las Vegas, EDC Orlando, EDC Mexico, HARD Summer, and the Okeechobee Festival. Dubbed Insomniac REWIND, the programming kicked off Thursday, March 19, and will broadcast 24/7 until Tuesday, March 31.