Following the immense global success of Defected's first-ever Virtual Festival, which was live-streamed across Twitter, YouTube and Facebook reaching over 10m people, the house music behemoth is preparing to continue the series with a 6-hour stream this Friday, 27th March.
Complying with the UK government's lockdown restrictions, Defected are encouraging music fans to stay home to enjoy six world-class DJ's streaming direct from their own homes and studios.
DJ sets will come from some of the international talent that helps make Defected a world-leader in dance music; Folamour, Karizma, Melé, Riva Starr and more to be announced later this week.
Last week positive reactions flooded in from around the world for the Virtual Festival, receiving support from the likes of BBC Radio 1 & Radio 2, BBC London News, Pitchfork, Forbes, Le Monde and many more global media outlets with a reach of over 250m. Over 1.5m people tuned in to the stream over the weekend, with many viewers calling for the Virtual Festival to become a regular event.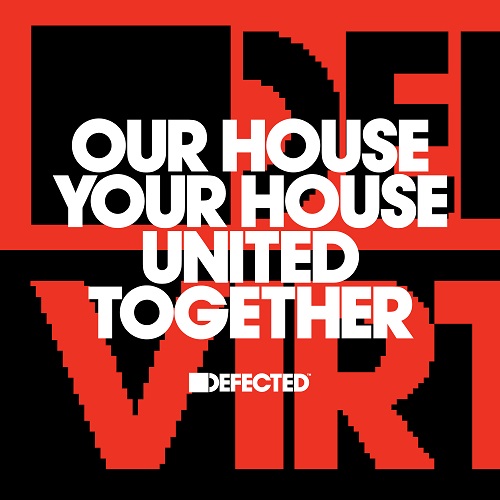 Due to the overwhelming demand Defected are committing to continuing the weekly broadcasts for as long as possible, while adhering to advice from health organizations. The stream will provide an essential soundtrack to the current lockdowns being enforced around the world, and a welcome uplift for those in isolation. Defected's 'Our House. Your House. United. Together's message accompanying this week's event is clear, to encourage people to stay home and connect virtually through the power of music.
On the reaction to last week's Virtual Festival, and why he's so determined to keep bringing people together on the virtual dancefloor, Defected's founder and owner Simon Dunmore said:
"In normal times we connect people physically and online via social media. Last Friday we proved that there really is a global House Nation as people from all over the world met and partied together via apps and the Internet. There was nothing but positivity for 12 hours because, as the saying goes, people were "lost in music".
The event reunited people, they realised they were not alone in isolation. Communities and friends met up via their screens, and they partied like it was 1999! We hope to continue for as long as we are needed. We need people indoors, safe. We'll provide the music and good times, they just need to stay in and be a part of this huge global House Party. We also want to extend the concept by fundraising for the global COVID-19 Solidarity Response Fund."
Taking it one step further in its bid to promote safety during these unprecedented times, Defected will be making a donation to the COVID-19 Solidarity Response Fund from the World Health Organisation, and Friday's stream will appear alongside a button for direct donations from viewers. Recently set up, the Fund is a secure way to contribute to the WHO-led effort responding to the pandemic.
On putting together a digital event that reaches millions, Defected CBO James Kirkham said:
"We need to own our role as a music business during this time, and bring the positivity. We need to be a beacon of light. We've worked closely with ubiquitous all-access platforms like Facebook, Twitter and YouTube, vital conduits enabling us to bring our brand to life onto millions of screens around the world. We'll be connecting people again this Friday through great house music, creating the ultimate house parties. Connected. Together."
Defected Virtual Festival links: Twitter,Youtube ,Facebook.
Defected Virtual Festival playlist on Spotify.