Festival organisers have been closely monitoring the worldwide situation for the past few weeks and a decision has been made that the debut edition of one of 2020's most eagerly anticipated events, SAGA Festival, will be rescheduled to September this year due to COVID-19 concerns. This postponement is the best option for SAGA Festival with the health and wellbeing of visitors a main priority.
SAGA Festival will now take place between 11-13 September at Romania's stunning Izvor Park location. It will be an immense moment of celebration of a brand new dance music experience taking over the cultural hub of Romania.
The innovative festival – a brainchild of both ALDA (AMF) & Insomniac (EDC) – marks a new beginning for the Eastern European festival scene, with a whole host of the finest acts in the world across 3 days of musical celebration. Festival organizers have noted that the soon to be announced lineup may be slightly different due to artist scheduling, but they assure visitors that it will be up to ALDA and Insomniac standards. There will also be an amazing surprise act added to the line-up, which will also be announced soon.
This stunning festival experience will now take place under the lush late-summer air, with sun shining as ravers from all across the world touch down in Romania to taste an iconic moment in dance music history.
Filled with exciting visual spectacles – a small selection of which were displayed to guests at the recent SAGA launch event – visitors will be truly blown away by the scale of this pioneering event, with 'the story of SAGA' focusing on writing a new chapter in electronic history as we fill the blank pages of our story with the tales that will be told for generations to come regarding the antics enjoyed at SAGA Festival 2020.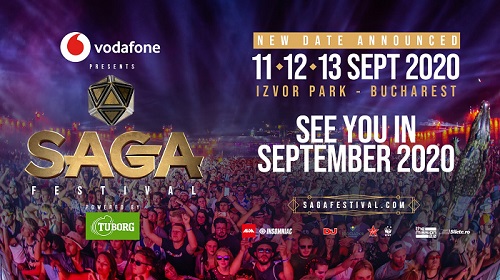 Previously playing host to over 350 shows and more than 30 brands for millions of visitors worldwide, ALDA's reputation in the electronic industry has elevated the brand to the summit of the scene, where they proudly sit alongside partner brand, U.S giants Insomniac. With party-goers from every corner of the globe jetting in to experience the inaugural edition of the annual musical celebration, all eyes now turn to September.
Are you ready to experience the beginning of the SAGA?