UNTOLD, one of the biggest festivals in the world and the biggest one from Romania, will throw the biggest living room party on the 1st of May. OVERNIGHT is a unique live show, an opportunity for people from all over the world to connect and enjoy their favorite music, created in partnership with the biggest and most important television in Romania, PRO TV.
Dimitri Vegas, No. 1 DJ in the world, Lost Frequencies, Sunnery James & Ryan Marciano, and Danny Avilla, who have performed in the World Capital of Night and Magic, will play special sets at OVERNIGHT.
The exclusive show also includes Romanian artists and will be broadcasted on UNTOLD's YouTube Channel, starting from 22:00 EET, and shared on UNTOLD Facebook Page. Subscribe and activate your notifications here.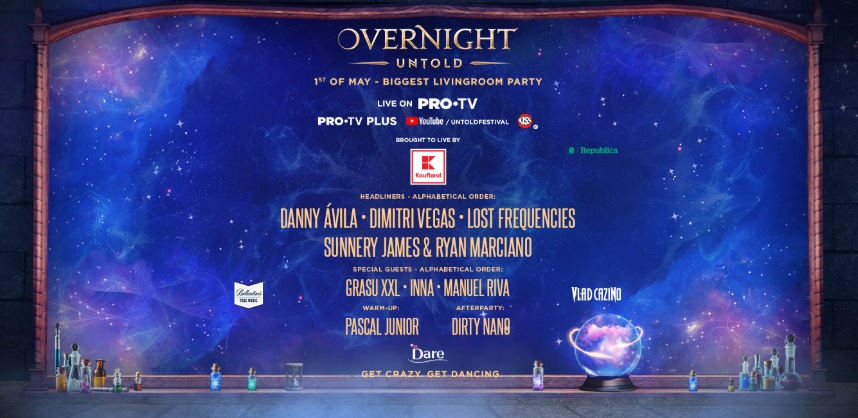 NEVERSEA festival will also share the OVERNIGHT party on its Facebook Page, here. All of the online channels of UNTOLD and NEVERSEA will share the biggest living room party. The live television show will also be available online on PRO TV PLUS, here, and on PRO TV, the No. 1 television channel in Romania.
The warm-up for the craziest virtual party will be made by DJ Pascal and the after-party will take place with Dirty Nano. Special guests of the show are the Romanian artists Inna, Grasu XXL, and Manuel Riva.
UNTOLD festival invite their fans to prepare their favorite outfit, the set-up for the party, and enjoy the exclusive show OVERNIGHT. After all, in these times of isolation it is important to keep the party alive!
Besides fun, UNTOLD offers everyone the occasion to participate at a noble cause and donate for two Romanian projects, that are helping the local authorities and doctors in the fight with COVID-19. During the show, the fans can donate on untold.com/united.
Check the official teaser below!