Defected's unstoppable virtual momentum continues this Friday with an all-star Virtual Festival line-up, featuring dance music heavyweights A-Trak, Danny Howard, Duke Dumont, Claptone, OFFAIAH, Roberto Surace and Sonny Fodera streamed via Defected's channels on Twitter, Facebook, YouTube, VKontakte and Twitch.
Defected's virtual series continues to innovate
A weekly series running since the beginning of coronavirus lockdown in the UK, Defected was one of the first to experiment with live-streamed events of this kind. The new-era music business continues to innovate in the digital events space, with state-of-the-art production and interactivity, going so far as to offer festival slots to its talented community of DJs.
Described by Facebook as defying "the woes of coronavirus", Defected's Virtual Festivals have so far collected 12 million views from far and wide across the seven events, including two from Defected's sister label Glitterbox. While events are hit by inevitable cancellations and postponements, Defected continue to plug an ever-widening gap for dance music lovers to still enjoy their favorite artists and even discover new ones while adhering to social distancing rules.
A-Trak makes his debut
Making his debut appearance for Defected will be dance music's wonderkid A-Trak, a producer, turntablist and label head whose work includes productions for Kanye West, collaborations with Armand Van Helden (as Duck Sauce) and remixes for the likes of Boys Noize and Simian Mobile Disco.
As a DJ he's full of surprises and this Friday will be no exception, as he provides a special set combining his turntable set-up with a Roland TR-8S drum machine, an innovation brought on by experimenting during lockdown.
A-Trak adds, "It's opened up a whole new approach to DJing for me, where everything is a live re-edit. I come from a background of turntablism and DMC battles, but over the years my quest became to make routines that people can dance to and enjoy as songs — especially as my path led me from hip hop to house music. This is the first time I'll perform a set comprised of all these new ideas that I've been exploring. This is a first peek into the future of my sets."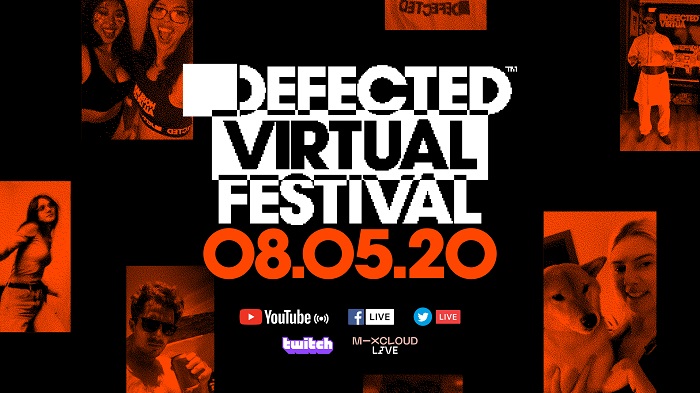 Competition winners get the chance to play for millions
Alongside Defected's seven world-class DJs, this Friday's Virtual Festival will feature two of the most promising undiscovered talents from its global community, courtesy of the DJ For The World competition.
The competition saw more than 750 aspiring DJs sending in their mix auditions to Defected for a chance to win a slot during one of the festivals. Inundated with entries at a very high standard, four winners were chosen instead of one as originally planned. The first pair of worthy winners, Selena Faider from France and Soulmajestik from South Africa, will each play a half hour set this Friday.
Impressing Defected's team with her infectious energy and self-assured vocal house selections, Selena Faider revealed that stepping up to this particular platform felt like it was meant to be:
"One day a guy used to call me a 'Defected Child', I guess he was right! Defected has rocked me through the years, on the dancefloor and behind the decks, house music has always been a spirit in my eyes. I'm happy to be part of this adventure."
From the other side of the world but sharing universal house music sensibilities, trio Soulmajestik caught the eye of the Defected team with their high-energy percussive performance, using live drums and keys to create unmistakably South African dance rhythms. Thrilled to take one of the four winning spots, one of the group commented:
"On behalf of my band I would like to thank [Defected] so much for this great opportunity to perform on your Virtual Festival. I follow Defected Records on Twitter so I have witnessed the amazing platform that you have created for artists around the world. I feel soooo excited to be chosen among the winners, it gives me so much hope and confidence on our craft, thank you so much."
Defected will also continue to encourage fundraising for the World Health Organization's COVID-19 Response Fund, placing a button alongside the stream for direct donations. During the previous virtual events $337.5k has been raised, doubled by Google to make a total of $675k.
Next week will see the return of Defected's sister brand Glitterbox, for the third installment of its Virtual Festival. Previous headliners have included Bob Sinclar, Purple Disco Machine, Dimitri From Paris and Mousse T.
Find out more about the COVID-19 Solidarity Response Fund here.
Defected Virtual Festival playlist on Spotify here.