After revealing her new logo during a spellbinding Livestream reaching over 3 million people around the world last month, Techno Dj and producer, Charlotte de Witte is back with another stream on May 7 from 7 PM – 8:30 PM CEST. This time around it will be a special B2B with Italian techno titan Enrico Sangiuliano.
Before the COVID-19 outbreak, Charlotte visited Milan Fashion Week, where she met up with Enrico Sangiuliano. Once the virus had been detected in Italy, they decided to go to Belgium together. They've been lockdown buddies ever since. With both artists eager to play for music lovers around the world, it only makes sense to combine their strengths to create a special Livestream.
With Enrico being known for his strong performances at Awakenings and Creamfields amongst others and Charlotte notorious for her effortless charm and powerful track selection, this Livestream will be nothing short of extraordinary. Make sure to tune in to this memorable Livestream, this is something you don't want to miss!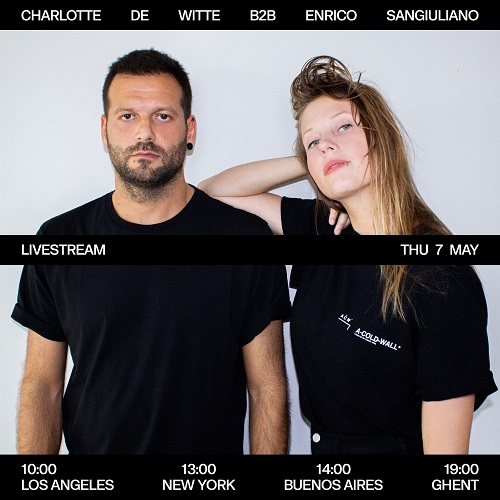 This Livestream is done in compliance with the current rules of the local authorities.