R3HAB explores uncharted sonic territory on "Bésame (I Need You)," his sultry new collaboration with singer/actress TINI and Latin GRAMMY-winning Latin Pop trio Reik.
We quickly find out what happens when three powerhouses of this magnitude come together, as the track subtly fuses exquisite elements of each one's signature sound.
R3HAB delivers his deep, driving drum bass lines that serve as the backbone of the song, asking listeners to get up and dance, while Reik's influence plays with Latin-infused melodies that give "Bésame (I Need You)" exotic appeal. Platinum-certified TINI and Reik come together for a female/male vocal group, evoking images of a balmy and enthralling night out dancing. The single is out now on Hollywood Records and follows R3HAB's releases "Feel Alive" for "SCOOB!" movie's soundtrack as well as "Be Okay" with HRVY.
"Right after we started working on the song, it was clear what the sound of the track will be like. Tini & Reik brought the perfect energy, which you can hear throughout the entire song. "Besame (I Need You)" is being released right in time to provide these necessary summer vibes to our fans." – R3HAB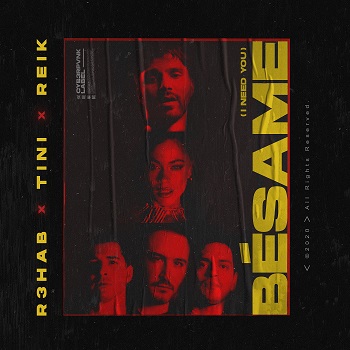 "I am so excited to work with Reik and Rehab. I find it very interesting to explore new musical styles, and Bésame definitely has a special sound, distinctive from other songs. I feel very honored to collaborate with these two great artists." – TINI
"We love the song. It's super energetic, it makes one dance and have fun all the time. It's one of those songs that you really just wanna jump to. Looking back, we remember meeting TINI at a concert in Argentina when she was 15, or so.
It's crazy now having the song together with her. About R3HAB, we just recently met him, and we love what he does. He already remixed our earlier single "Si Me Dices Que Si," and it blew our mind, as he took the song to another dimension. Collaborating with R3HAB again is awesome" – Reik
Listen to the track below.