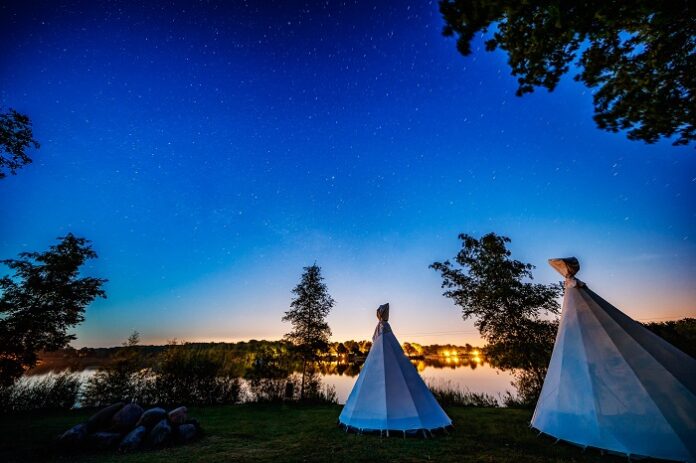 Tijdloos (transl.: timeless) is an intimate camping experience for all ages, with a wide range of activities for the body & mind and soul with compliance to the 1,5-meter distance that is required by the Dutch government.
As this year's festival summer and foreign summer holidays grinds to a halt and ID&T's numerous decor pieces are left unused, ID&T steps in with a brand-new and surprising concept.
From July 10th to August 17th, Tijdloos invites its guests to enjoy their summer vacation on the vast expanse of acres of the beautiful Ermerstrand in the province of Drenthe, the Netherlands. For almost 5 weeks, the campsite will be transformed into a magical summer destination where busy agendas, appointments – and even time – are left behind.
Creativity, innovation and passion to bring people together is deeply rooted in the DNA of the founders of events like Mysteryland, Defqon.1 Weekend Festival and Welcome to the Future.
After receiving the news that no festivals will be taking place this season, the Tijdloos seed was planted and has carefully been cultivated since this day; and all the love and craftsmanship which has been built for decades is now intimately reinvented at Tijdloos.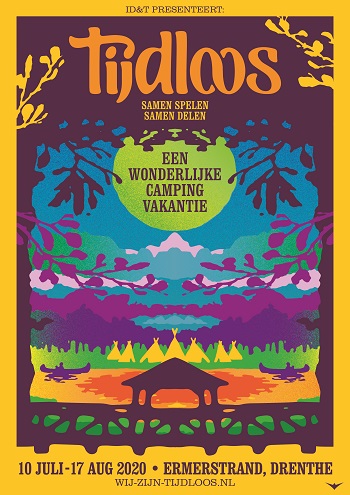 Tijdloos Creative Director Carina Kornfeind said:
"In times of crisis, you get inspired to think 'out of the box' and that's how Tijdloos was born: the most extraordinary summer destination of 2020. Tijdloos is something completely different than the festivals we usually organise. It is an intimate and free-spirited playground for all ages to enjoy life unconditionally together with their loved ones. Since there is a limited capacity, we expect that the demand will exceed the supply."
Between spacious lawns, forests, islands and a lake the campsite guests are given the opportunity to fully live in the present moment. Various activities are spread upon 50 acres of natural surroundings such as a broad spiritual and mindfulness program, water sports and outdoor activities, interactive art installations, world music and lectures for adults as well as the younger guests. The entire landscape is colourfully decorated with the most beautiful decor pieces and light installations, following the ID&T philosophy.
Guests can choose between different glamping accommodations that are fully equipped, but also have the opportunity to bring their own tent. During the intimate gathering, the organization conforms to all guidelines of the Dutch Institute of Health and Environment (RIVM) and the regulations of the security regions will apply. Social distancing will be in place, at both the campsite and during the activities.
Overnight stays for camping 'Tijdloos' can be booked via link. During the week, you already have a spot for €29 per night per person and in the weekend for €39 per night per person (children join at a reduced rate).
Please follow the advice of your local government on traveling abroad before booking a spot at Camping Tijdloos.