aThis Friday, June 26th will see a Pride celebration hosted by Defected's sister label Glitterbox. The Glitterbox x Pride event has been programmed in collaboration with renowned New York nightclub House Of Yes and Brighton Pride, where Glitterbox was due to appear this summer, hosting their own rooms alongside Glitterbox's main room.
DJ's playing the Pride special include The Shapeshifters alongside award-winning luminary Billy Porter in a throwback performance, Horse Meat Disco, Fat Tony, big apple favorite Jellybean Benitez, Kiddy Smile, Late Nite Tuff Guy and Ralphi Rosario.
The Virtual Festival series was Defected's answer to worldwide club closures and events cancellations in March 2020. It was an instant success with 1.5 million people tuning in to the first live-streamed event, a total of 18.5 million views across the series, leaving 100 million+ digital impressions across an average of 91 countries each week.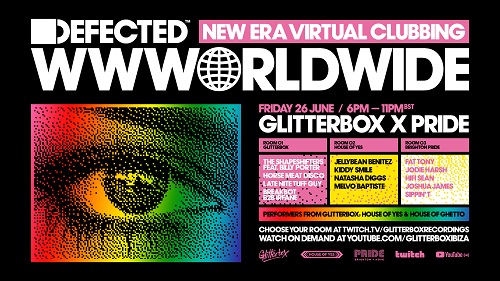 Support from all the major social media and streaming platforms as well as media coverage from Sky News, BBC, Channel 4 News, Forbes, Financial Times, Radio 2, and many more achieved a total organic reach of 1 billion+.
Choose your room on Twitch TV
TwitchTV/GLITTERBOXRECORDINGS
On Demand HERE
YOUTUBE.COM/GLITTERBOXIBIZA