When the haunting tones of 'Hollow' first popped up on the radar as an ID – ID, few could've guessed that Armin van Buuren and AVIRA were the ones responsible. Also featuring British singer-songwriter Be No Rain, the record sees the five-time #1 DJ in the world explore new ground in tandem with Canadian rising star AVIRA, using their unique perspectives to great effect.
'Hollow' shows a remarkable synergy between the respective sounds of its creators. Dragging listeners in with its dark synth lines and the characteristic vocals of London's Be No Rain, this record offers that touch of sophistication that pushes listeners to find out what else lies beneath the surface.
Here's what Armin van Buuren had to say about 'Hollow':
"I've been a big fan of the Melodic Techno/Tech House scene, as you've all probably heard during my warm-up set for A State Of Trance 950. It has inspired me so much that I wanted to explore that sound myself, and I loved the amazing records AVIRA put out on Armada Music recently.
I contacted him to see if he would be interested in working together on a new record and I was stoked when he said yes.'Hollow' is what we made of it, and I couldn't be happier with the end result."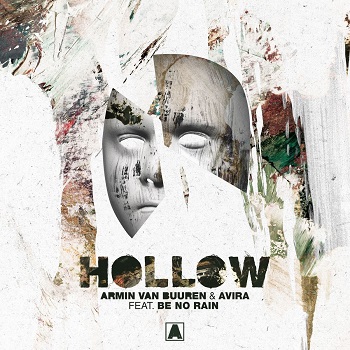 AVIRA: "The idea for 'Hollow' was to bridge a gap between all dance music lovers. Whether they're into progressive house, melodic techno or trance, we wanted to take the listeners on a journey of our vision for the future of dance music. 'Hollow' turned out exactly the way we wanted and is a great start to all things still to come."
Be No Rain: "The instrumental that Armin and AVIRA sent me had such a beautiful contour, it moved from total sparsity to something harmonically opulent. I thought it sounded like the process of salvation that can be triggered by love.
The lyrics are about a man who feels severed from the world around him. Slowly he's coaxed out of this alienation by the love that he's found. As the richness of the final chord progression seeps in, he finds himself restored and the vocals give way to the pure, joyous catharsis of the drop."
Listen to the track below.