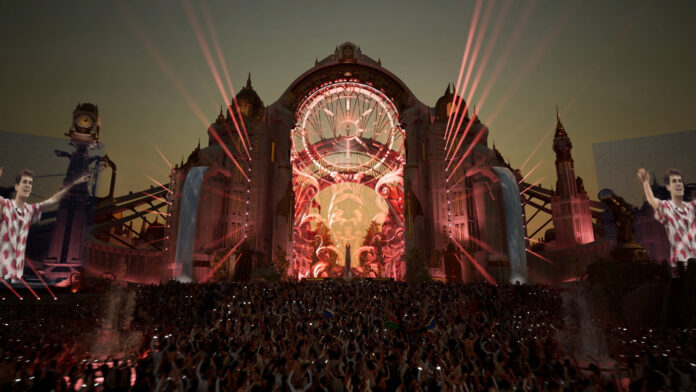 The wait is almost over! The weekend is already here and we are super excited for Tomorrowland's first ever digital festival "Tomorrowland Around The World". Combining 3D design, Hollywood-style filming techniques and modern gaming technology, Tomorrowland is testing the limits of the online live experience. The visibly realistic island of Pāpiliōnem will be residence to eight magical virtual stages stacked with world's best dance music artists.
Tomorrowland Around the World is not a traditional livestream event with artists performing from their studios or at home. Instead, it is a very unique form of visual entertainment – a technological masterpiece demonstrating a number of technological world premieres and entwining entertainment and technology in a way that has never been done before.
The site, which takes the form of a butterfly-shaped island called Pāpiliōnem, has been created by Tomorrowland's in-house creative team and 3D artists, in collaboration with exterior Dogstudio, a creative studio with offices in Belgium, Chicago and Mexico City.
Here's what Henry Daubrez, CEO & Creative Director of Dogstudio had to say about Tomorrowland's inaugural digital festival:
"We are currently working day and night to design and bring the entire virtual island universe to life under a really aggressive timeline. We work hand in hand with Tomorrowland's in-house 3D, creative and development teams to build a compelling, immersive, user-friendly, but also highly premium experience.
We are building a web-based experience and we are all really pushing the boundaries of what can effectively be done in a web browser. Our biggest challenge – besides being an obvious enormous technical challenge – is making sure festival visitors will be able to feel they are being part of something larger than their computer and their internet connection.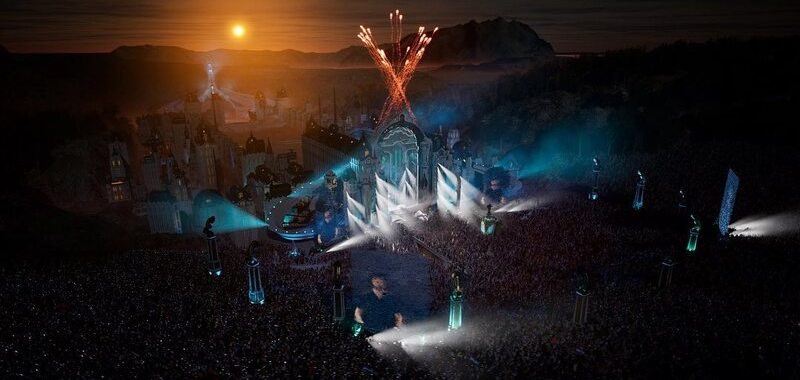 People won't only be immersed in Tomorrowland's new universe, but they will also be able to communicate with other festival visitors. I can proudly say that we are setting new standards for web-based online music experiences, pushing the boundaries of the latest technology that is available, but on the other hand making sure that the platform is even working on a device that is a couple of years old."
Dogstudio has previously worked for the likes of Microsoft, The Museum of Science and Industry of Chicago, The Kennedy Center of Washington, Dragone and many more.
Headlined by global pop superstar Katy Perry the two-day festival experience, will include unique performances by superstar artists such as Adam Beyer, Amelie Lens, Armin van Buuren, Charlotte de Witte, David Guetta, Dimitri Vegas & Like Mike, Kölsch, Lost Frequencies, Martin Garrix, Paul Kalkbrenner, Steve Aoki, Tale of Us, Tiësto, Timmy Trumpet and many more.
Check out the full timeline for the event below!
Discover the full timetable for Tomorrowland Around the World, the digital festival and prepare for Tomorrowland 2020. https://t.co/uqU8sUHXcJ pic.twitter.com/3dMqr1XsMf

— Tomorrowland (@tomorrowland) July 16, 2020
To capture all these performances, Tomorrowland has built 4 different large green screen studios around the world. Most performances have been recorded on the holy grounds of Tomorrowland in Boom (Belgium). Artists based in North and Central America recorded their set in a studio in Los Angeles (USA), while Latin American artists went to a studio in Sao Paolo (Brazil) and Australian DJs performed in Sydney (Australia).
Check out the full lineup below!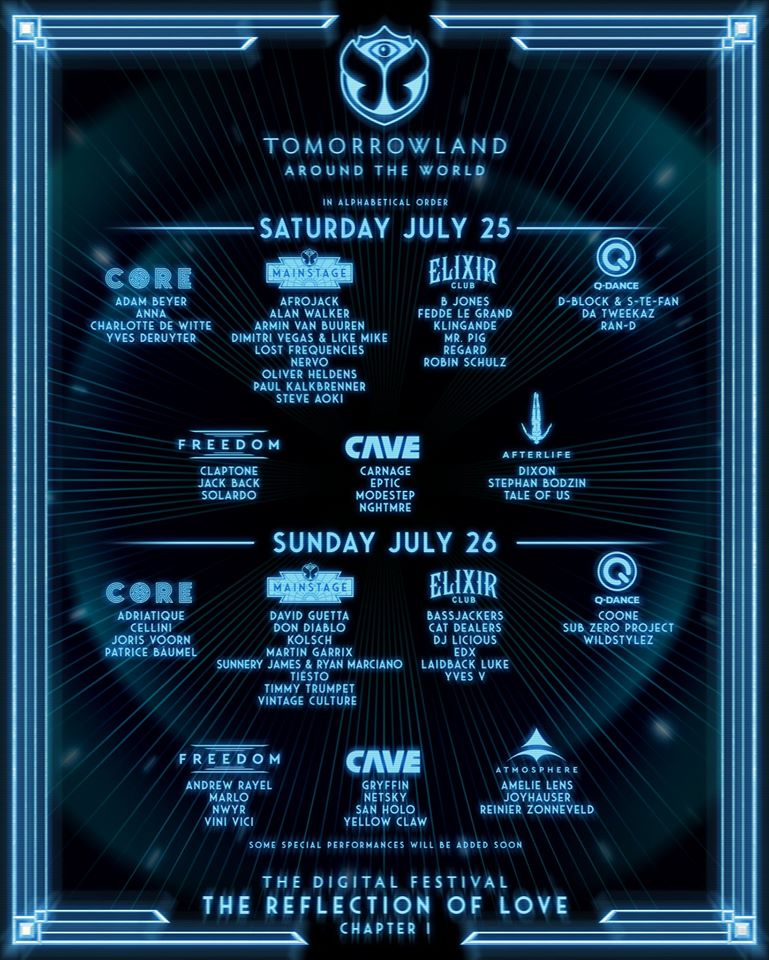 All studios had to be modified to create an environment that allowed enough room for the creative team to make this a Tomorrowland-worthy broadcast. All cycloramas (or infinity-walls) were 6m or higher, at least 8m wide, and at least 8m in depth. A full-sized DJ booth was built in the studio and all locations measured the exact same set-up. The video production teams working on Tomorrowland Around the World are known for previous work with the Olympic Games, the Super Bowl, international feature films and the game development world.
The digital universe of Tomorrowland's digital festival has 10 times more polygons compared to a modern computer video game and each stage has a 16 square kilometre surface with 32.000 trees and plants and over 280.000 virtual festival goers who each will have their own attributes, such as flags or lights. The People of Tomorrow will be treated to an immersive and unprecedented music festival experience, combining a 3D décor and artist performances with a spectacular show featuring special effects, fireworks, laser shows, a realistic crowd and sound effects.
Tomorrowland has been working closely together with stYpe, which provides a cutting-edge camera tracking technology for achieving real-time augmented reality and virtual studio effects in live broadcast.
Speaking about the festival Stype Cajic, Founder & CEO of stYpe said:
"Tomorrowland's digital festival is different from the live broadcast productions we typically do, and from the typical movie productions we do, in the sense that it combines the requirements of both. In live broadcast projects, like for example the Olympic Games, there are very high standards for speed, virtual scene optimizations and reliable camera tracking. As the shots are done only once, there's no luxury of repeating them, since it all has to be live. Movie productions, on the other hand, have requirements for high-resolution and photorealistic virtual effects as seen in blockbusters movies. Tomorrowland Around the World has both of these requirements and this meant we had an interesting technical challenge to solve.
The artists were performing their acts once, without repeat takes, and they needed to see in real time the virtual environment they were performing in. This meant that the speed and scene optimizations from live broadcast was required. On the other hand, everything needed to be shot in high resolution and be photorealistic to satisfy the sophisticated taste of festival visitors who will be watching.
While planning for this project, we considered a few solutions for camera tracking, and we finally decided on using the RedSpy system. It proved to be a great choice since it operated without problems on dual frame rate for days in a row, and it surpassed Tomorrowland's accuracy requirements for 4K shooting. This meant that the camera tracking part of the challenge was solved.
The second thing needed were high-resolution photo-realistic real time renders. For this purpose, we used our StypeLand Unreal plugin which we modified for getting the volumetric lights on the talent, which gave the whole set a more realistic look." 
The stYpe technology was used worldwide at the MTV VMAs, Eurovision Song Contest, Olympic Games, Super Bowl and many more.
At the end of the pipeline there are 2 different platforms used to assemble all the elements together. The 3D stages designed by Tomorrowland are imported and layers of show elements, lights, attributes and environments are added. Depence, a platform that is typically used to visualize show elements such as lighting, lasers, visuals and other effects, is used for most indoor stages where the show elements are key to the performance.
The software was not designed to add video of real-life footage to it. With the help of the developers, it is now possible to have volumetric light on the talent in the set. These environments have gotten a more realistic look. All technical elements that make up the show are programmed and controlled in the same way by the same skilled team that does this for the other regular Tomorrowland editions. This results in a realistic image with hints to iconic stage designs of the past. For these stages a crowd was designed with some extra features to generate an even more immersive effect.
The other stages are rendered in the game engine Unreal Engine, which allows for photorealistic landscaping and scripting of certain elements. Each stage has a 16 square kilometre surface with 32.000 trees and plants. The landscapes for each stage have been custom-made to resemble elements of the festival grounds: the Core stage is situated in a forest environment, while the Mainstage has the natural amphitheatre landscape similar to the holy grounds in Boom. On the festival grounds, over 280.000 virtual people each have their own attributes, such as flags or lights. The digital universe of Tomorrowland Around the World has 10 times more polygons compared to a modern computer game, pushing the limits of the most modern game engines and hardware.
Tomorrowland has been collaborating with Epic Games and its Unreal Engine, a state-of-the-art real-time 3D creation platform and game engine that features photorealistic rendering, dynamic physics and effects and lifelike animation, widely used in many games including Fortnite, Minecraft and Mortal Kombat.
Ben Lumsden, Business Development Manager at Epic Games – Unreal Engine said:
"How do we bring new experiences from great artists to remote audiences? This is the pressing question that's being posed, and one that's now being answered by real-time technology. Unreal Engine has quickly become the standard for beautiful virtual sets in film and television production and is now being used more in live broadcasts.
Tomorrowland Around the World skillfully mixes traditional techniques such as live camera cutting with our new DMX lighting control integration all within the immersion of Unreal Engine, building a new digital journey that is sure to captivate people across the planet. What the team at Tomorrowland has been able to do in a very short period of time is seriously impressive. Combining the live action performances of the artists into gorgeous, high-resolution virtual worlds has been a logistical and technological feat."
Here as well, custom builds of the software were necessary to be able to process the camera tracking data differently than in standard broadcast solutions, read the DMX data from lighting consoles, and integrate with nonlinear editing systems to switch between all virtual cameras. Custom APIs were written to bridge software packages that never interacted before and no effort was spared to blend the artist in the magically created environments. A big team of audio mastering engineers are working on creating realistic crowd sounds, cheering, applause and singalongs, all timed according to the artists' sets.
Check out the mainstage below!
Tomorrowland Around the World is 'Time-zone-friendly' for visitors from Asia and North and South America and will be open for people of all ages and places.
Tickets for Tomorrowland Around the World are now available here.
– Day ticket costs €12.50.
– Weekend ticket costs €20.00 and includes a week of video-on-demand content to relive the entire experience.
– Special People of Tomorrow packages and Home Party packages are available. More info can be found here.
Watch the official trailer below and prepare yourselves for a magical weekend with Tomorrowland!