ALDA & Insomniac are saddened to announce that due to recent global events, the debut of SAGA Festival has been postponed until 2021.
Though this is a decision that was not taken lightly, organisers are highly optimistic that the debut of Bucharest's first major music festival will be able to take place safely in 2021. The festival's priority will always be the health and wellbeing of its attendees and for this reason, the decision was made to postpone SAGA until next year.
The debut of SAGA Festival is now set to take place between 4-6 June 2021 at Bucharest's picturesque Izvor Park location. Despite the postponement of the festival, organizers can assure fans that the wait will be well worth it, as preparations continue for the historic occasion. SAGA Festival will provide visitors with a true celebration of music and culture that will attract attendees from all corners of the globe.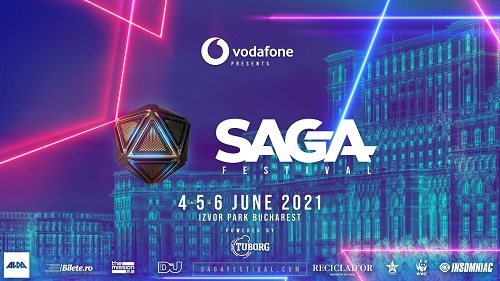 This unique festival is the result of a collaborative effort between organizers ALDA (AMF) and Insomniac (EDC), and promises the beginning of an exciting new chapter for the Eastern European festival circuit.
Over the course of 3 days, visitors will be treated to performances from many of the world's most iconic musicians. Although the lineup for SAGA's 2021 debut may differ from the original billing, organisers have worked tirelessly to secure a top tier selection of artists which is up to ALDA & Insomniac standards.
Having organised over 350 shows for more than 30 brands and played host to millions of visitors worldwide, ALDA has earned its steadfast reputation as one of the music industry's leading event organisers. Joining forces with U.S. trailblazers Insomniac, who are responsible for many of the world's leading events including EDC, these two industry giants are the brains behind this pioneering festival that will change the face of the industry.
SAGA will now provide an exciting start to the summer in 2021, as Bucharest prepares to welcome visitors from throughout Romania and beyond. Attendees should prepare for a historic occasion that will unite fans and artists through an unforgettable experience that will cater to every sense.
With state of the art visuals, phenomenal pyrotechnics and breathtaking stage designs, SAGA Festival will mark an unmissable extravaganza that will push the boundaries of the events industry. 'The story of SAGA' will begin in 2021, with fans from all over the world in attendance. Prepare to create memories that will last a lifetime, as the SAGA begins.