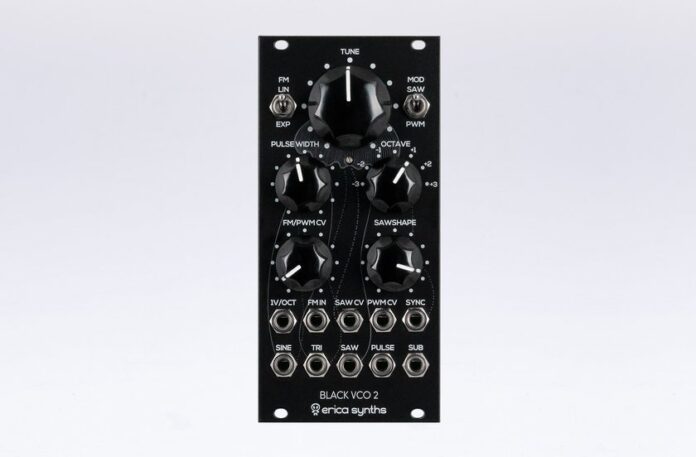 Erica Synths announces the arrival of the Black VCO2 analogue VCO. The Black VCO2 is an analogue VCO with built in SAW waveshaper and two modulation LFOs.  
As the latest in the Erica Synths Black Series modules, it extends the capabilities of the original Black VCO.
Notable features of the Black VCO2 include a one octave down sub oscillator, a saw waveshaper with manual and CV control, highly accurate tracking and stability across 8 octaves and many other items.
Features
• Simultaneous sine, triangle, saw and pulse wave outputs
• -1 octave suboscillator
• Highly accurate and stable tracking across 8 octaves
• Saw waveshaper with manual and CV control
• Manually adjustable and CV controlled pulse width
• Exponential/Linear FM input with an attenuator
• 2 built-in modulation LFOs
• Synchronisation input
• Octave switch – 7 octaves
• Skiff-friendly design
The Black VCO2 is available now for €230. For more information, please visit the Erica Synths product page.