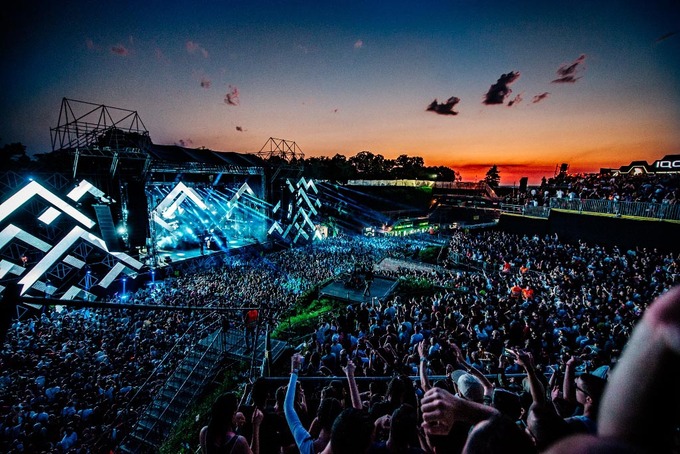 Sheck Wes, Paul Kalkbrenner, Nina Kraviz, Honey Dijon, Paul van Dyk and Solomun, who will be bringing his special 4-hour set to the celebrations, have confirmed their performances at EXIT Festival's 20th anniversary!
A long list of world and regional stars have already confirmed their performances, including David Guetta, DJ Snake, Tyga, Eric Prydz b2b Four Tet, Boris Brejcha, Sepultura, Metronomy, Marky Ramone, Laibach and many more.
The central event, marking the two decades of the two-time European festival awards champion, will take place in its famous full format, from 8th to 11th July at the Petrovaradin Fortress, with a lineup that inspired 82% of fans to show their love for the EXIT Festival by keeping their 2020 tickets for the next summer.
Says Dusan Kovacevic, Founder & CEO, EXIT:
"EXIT has always had a huge number of loyal fans, but we were overwhelmed by the very high percentage of those who decided to keep the ticket for the big celebration of the 20th anniversary of the festival next year. We are hugely grateful to the audience for love and support and this also gives us confidence to keep on booking new acts and create an awesome line-up for the 2021 edition and give fans something to look forward to."
Along with the above mentioned headliners, 999999999 live, Juliana Huxtable, Francois X, Onyvaa live, Bokee, Monosaccharide, as well as VTSS b2b SPFDJ, will be arriving to the Fortress next summer to perform on the three biggest stages at EXIT – the Main Stage, the Dance Arena and the No Sleep Novi Sad.
The new group of performers for EXIT 2021 is led by exciting key players of the world electronic and trap scene. The young New York rapper Sheck Wes, whose "Mo Bamba" is considered one of the biggest hip-hop hits of the last few years, will be arriving to Serbia for the first time. Sheck's talent was recognized by Travis Scott and Kanye West, who signed his releases, and he already has collaborations with hip hop stars like DJ Snake, 21 Savage, Lil Pump, Offset and Gucci Mane.
Honey Dijon, born and raised in Chicago, the home of house music, which is deeply rooted in her style, will also be performing for the first time at the Festival's 20th anniversary celebration. After numerous performances in some of the most famous clubs around the world, this exceptional musician, producer, fashion icon and activist will be bringing her unique sound to the Petrovaradin Fortress.
She will be joined by Nina Kraviz, the techno girl who has, on several occasions, closed the EXIT Festival and the famous mts Dance Arena and who recently had the unique opportunity to record a live set on top of Mount Olympus in Greece, which is available on her online platforms.
Paul Kalkbrenner, whose 2019 EXIT set was voted one of the best from that summer, has also confirmed his arrival. His biggest hit, "Sky and Sand", has spent as many as 129 weeks on the German charts, and thus found itself at the top of the official chart of the Day of the German Unity, which included hits from the previous 30 years. On his European solo tour in 2019, Kalkbrenner sold more than 100,000 tickets, which brought him closer to the status enjoyed by the rock stars.
Solomun, another EXIT veteran and favorite of EXIT Festival's fans, will be bringing a 4-hour set to Novi Sad next summer, which will surely include songs from his new album, which is set to be published at the beginning of 2021. The introduction to his new release is an excellent single titled "HOME", with which he wanted to draw attention to the power of music and how necessary it is for it to return to the clubs and spaces that are considered its home, so that we can experience music in the right way.
Paul Van Dyk multiple winner of the best DJ in the world award and a Grammy Award winner, who recently performed virtually at Exit's Life Stream event, will perform live at the Fortress next July and present his latest album called "Guiding Light".
The celebration of the 20th anniversary of the EXIT Festival will be held from July 8th to 11th, 2021 at the Petrovaradin Fortress, with performances by David Guetta, DJ Snake, Tyga, Eric Prydz, Paul Kalkbrenner, Nina Kraviz, Boris Brejcha, Four Tet, Sheck Wes, Solomun, Sepultura, Metronomy, Dax J, Kobosil, Denis Sulta, Honey Dijon, Laibach, Juliana Huxtable, Francois X, 999999999 live, Onyvaa, Monosaccharide, Bokee, VTSS, SPFDJ, Marko Nastić, After Affair, Kristijan Molnar, Bokee, Coeus, Goblini, Ilija Djoković, Lag, Insolate, Layzie, Massimo, Reblok, Runy, Space Motion and Thundermother.
All tickets purchased for EXIT 2.0 (50% off compared to the 2021 final price) are also valid for the 2021 edition. Those 82% who decided to keep their 2020 tickets will even have the chance to win some cool prizes: a Lifetime ticket for EXIT, a stage pass for the mts Dance Arena, VIP upgrade of a regular ticket, EXIT fashion packages and T-shirts. And the ones out of luck will also get their consolation: a 20% discount on EXIT T-shirts and souvenirs of their choice.
A limited number of tickets for the EXIT Festival 2021 is on sale at a promo price of 109 Eur + b/f and 40%discount compared to the final price. Tickets can be purchased via the official EXIT Festival's webpage as well as through the Gigs Tix sales network.
Fans who have requested a refund, but have changed their mind in the meantime and want to save their ticket and thus gain numerous benefits, can cancel the refund process by sending their personal data to tix@gigstix.com.