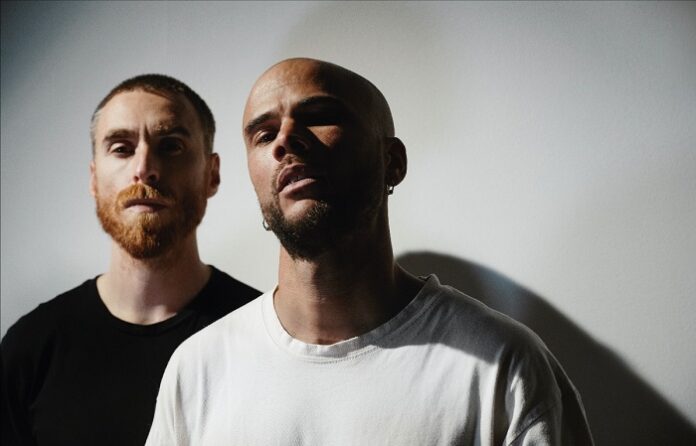 Parisian live act, production duo and DJ outfit KAS:ST today announce their second album, 'A MAGIC WORLD'. Set for release on December 11th via Tale Of Us' record label Afterlife, the first single and accompanying music video for 'VTOPIA' is out now.
Like a vast proportion of like-minded artists from varying fields, close friends and intrinsically synced creatives Carol and Manuel, better known as KAS:ST have taken advantage of global confinement to push the limits of their musical output.
Behind closed doors and simmered over the course of 6 months, it was here that the journey for their new studio album began to take form. With a natural desire to explore, develop and broaden the musical silhouettes which KAS:ST have become championed for, the inaugural taster of 'A MAGIC WORLD' arrives today in a highly visual form.
'VTOPIA', is the self-directed, cinematic video and KAS:ST's strikingly violent metaphorical commentary on the current age. Filmed between Paris and Barcelona, 'VTOPIA' is centred around a dark reality which intertwines with modern society.
A continuation from the 2019 video 'HELL ON EARTH' (3.2M plays) 'VTOPIA' follows the narrative of two main protagonists who only have their own dreams to escape.
An exploration of ambient electronic sounds, techno, rap, classical music and pop, KAS:ST welcome for the first time a host of multi-genre vocalists across the forthcoming album. A vision which moves towards a sound reminiscent of a darker musical tone of the likes of Four Tet, Bicep, James Blake and Floating Points, KAS:ST are no strangers to collaborating with seminal names from within the underground electronic scene including Tale Of Us, Kerri Chandler and many more.
Challenging themselves to innovate and elevate from the realms of techno which they believe not to be evolving, 'A MAGIC WORLD' is in KAS:ST's sense, a tribute to differences and diversity across both life and music.
Here's what KAS:ST had to say about their upcoming album on Afterlife.
"Our upcoming album is a much broader, artistic exploration for us and one which we feel demonstrates our many different musical influences. 'A MAGIC WORLD' is our vehicle to showcase a blend of electronic, rap, pop and classical influences, all the whilst remaining true to the sounds of techno"
Whether it be productions via their own label Flyance Records or remarkably performed live and DJ sets, KAS:ST have consistently crafted an atypical and avant-garde blend of electronic music.
With an impressive and famed discography which was first marked by 2016's double EP 'Dysphoria I Euphoria', since then, each track released is a journey fusing together dark and melancholic emotions without ever losing touch of the clubbing aspect of techno.
Following releases across renowned labels including Afterlife Recordings, Concrete Music and Materia, it was 2019 which saw the introduction of KAS:ST's debut LP, 'Road To Nowhere'. The album captured and synthesized the duo's vast creative range, touching upon industrial techno, drum and bass, trap and symphonic tracks – A milestone in the ever-evolving story of one of electronic music's most intriguing acts, 'Road To Nowhere' was extremely well received – streamed over 14 million times in the opening months.
The first full EP on Tale Of Us' Afterlife followed in December 2019, which continued to showcase KAS:ST's undeniable momentum in becoming a new musical discovery outlet for both industry heads and fans alike. 'Hold Me To The Light', one of the flagship tracks of the EP, once again emphasized the duo's will to re-write techno formula by collaborating with the London based singer, Be No Rain.
Tale Of Us themselves remixed the track and in turn, became one of the anthems of the Afterlife Recordings label during 2019. As profile, industry respect and fanbase continued to build, it was perhaps an unexpected yet expectational collaboration with house music pioneer Kerri Chandler, which made the Parisian act one of the new decade's unquestionably unignorable forces in electronic music.
Continuing their cross over from the underground, KAS:ST have a string of new releases scheduled for 2021, highlighted by an official remix for Moby. No strangers to gracing the stages of the world's most sought after clubs and festivals including Berghain – Panaroma, KAS:ST are currently in the process of developing a new live show – Set to marry state of the art audio and video technology with the more traditionally focused implementation of live vocalists and instruments.
Listen to the track below.