Insomniac Events has announced next year's return of their flagship East Coast festival, Electric Daisy Carnival (EDC) Orlando. Celebrating 25 years of EDC in 2021, the massive festival will take over Tinker Field for three unforgettable nights, Friday, Nov. 12 – Sunday, Nov. 14, 2021
EDC Orlando is the biggest dance music festival on the East Coast, and 2021 will bring even further expansion of the iconic EDC experience. For the second time, EDC Orlando will be a three-day experience.
"2021 will mark EDC's 10th year in Orlando, and I'm so grateful for the tremendous support we've received from the city of Orlando and the state of Florida. It's allowed us to grow the event in ways I never thought possible," said Pasquale Rotella, Insomniac's Founder and CEO.
"It's been a dream come true to be able to make EDC a destination in Orlando where they have the best amusement parks in the world. There's so much the city has to offer before, during, and after the festival that it's truly an amazing experience."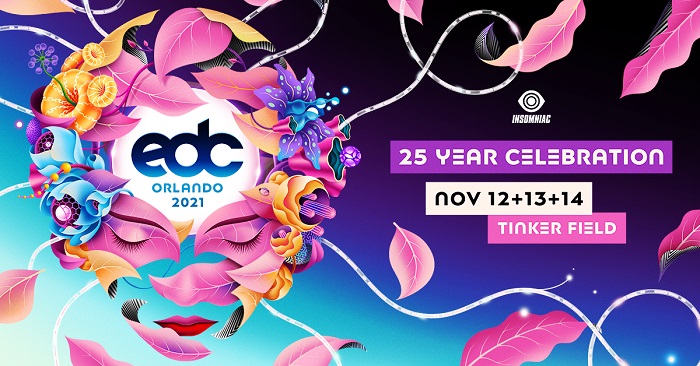 In 2019, EDC Orlando boasted the largest sold-out crow to date, entertaining over 225,000 Headliners. EDC Orlando has expanded to over 40 acres with four iconic stages, kinecticFIELD, circuitGROUNDS, neonGARDEN and stereoBLOOM, full-sized thrill rides, whimsical and colorful art, talented performers and more, and fans can expect an even more mesmerizing and extraordinary experience in 2021.
2021 will also mark 25 years of the world-renowned Electric Daisy Carnival brand, which has entertained millions of Headliners across the globe from Las Vegas, Orlando, Mexico City, Korea, China and beyond, continuing to expand throughout the world.
Future Owl presale begins Friday, Nov. 27 at 12 p.m. ET via the link. GA passes begin at $169.99 (plus applicable taxes and fees), GA+ passes begin at $249.99 (plus applicable taxes and fees) and VIP passes begin at $369.99 (plus applicable taxes and fees). Fans can also take advantage of the payment plan for all ticket types with a deposit of $10.