All three soundtracks are now finally released with additional versions and an Ambient Version of the highly-regarded first soundtrack, 'Sin Thetik'.
The Canadian electronic musician and DJ has been working closely under the direction of co-creative directors Miuccia Prada & Raf Simons, the resulting music heightens the senses and invites movement, evoking the dancefloor as much as thoughtful inner worlds.
Exploring the Plastikman sound in this new context has been a challenge and release for Hawtin and his revered alias, as he successfully auralized the vision and feel of each collection.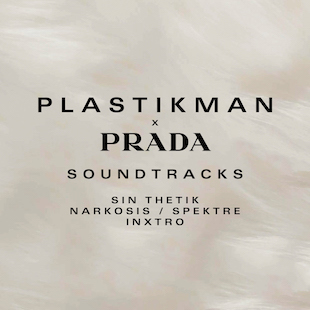 Hawtin says of the releases:
"For the Prada & Plastikman collaboration the musical direction was inspired by Miuccia's & Raf's concept for each collection. Although each collection had its own specific theme, I felt confident that the visual language of Prada and sonic aesthetic of Plastikman would find a beautiful and symbiotic relationship.
For the Spring / Summer 2021 Womenswear collection, Prada explores thoughts on how technology influences intimacy and sensuality, inspiring my use of AI algorithms to create synthetic voices to inhabit the show's sonic landscape. The Fall / Winter 2021 Menswear collection resonated with the world's current situation and how fashion (and music) help us deal with it and let us express ourselves.
Combining two works into one, reflected this metamorphosis with echoes of club beats and synth melodies that appear like a ghost from the past, hopefully waiting for their return. The third release and soundtrack composed for the Fall / Winter2021 Womenswear collection evolves through two distinct stages. Syncopated hypnotic beats welcome you first into an ambience of intimacy and sensuality, which then develops in the second half into a more playful and sexually charged rhythm of driving percussion."
Listen to the tracks below.