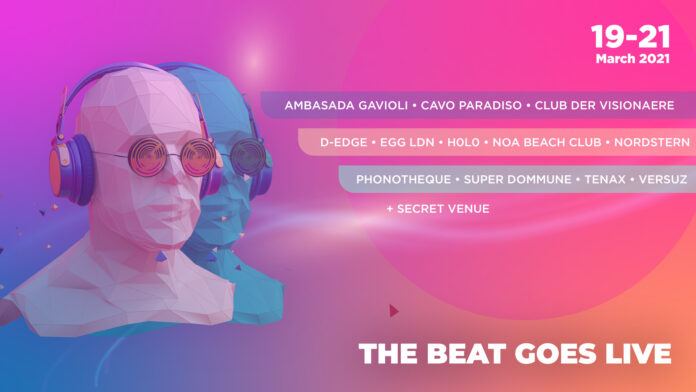 3LAU, Gramatik, Luciano, Andrea Oliva, Umek, Yves V and many more to headline a weekend-long  fundraising livestreaming/NFT event uniting world's top electronic venues for the launch of first of its kind hybrid events platform Paarti.
Paarti is a revolutionary platform that connects people through the power and joy of music. Designed to function and feel like the world's largest venue and with unique features for social connectivity, Paarti unites the active experience of real-world events with the innovation of best-in-class digital entertainment.
DJ, Producer, and NFT pioneer 3LAU will kick off THE BEAT GOES LIVE with a 30-min special performance bringing together top electronic artists and venues around the world. Gramatik, the first music artist to "tokenise" himself back in 2017 will end the event together with Luxas with a special performance under their collaborative project Cyberpunk.
Privilege Ibiza – the world's largest music venue according to Guinness Book of Records – will be joining the special fundraising event alongside Cavo Paradiso, Versuz, Noa Beach Club, Tenax and others.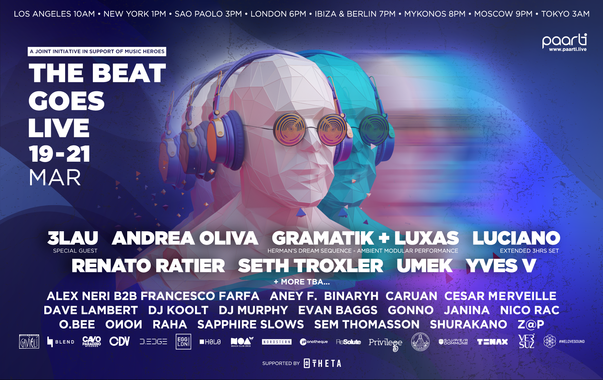 Hosting the event is Paarti, a revolutionary new livestreaming and social networking platform that empowers music fans to make real-world connections on a venue-like interface where they can meet up on the dancefloor, buy drinks, network with insiders, talk gear with artists, and more –– offering clubs and artists new ways to elevate and monetise their online performances.
Ticket sales and live donations will be made available on both fiat and crypto, with proceeds going directly back to getting live events back up and running. Paarti will also be dropping exclusive NFTs to award top donors at the event.
Here's what Raluca Cherciu, CEO, Paarti had to say about the event:
"With the world's most inclusive, engaged audience we are committed to give music lovers, artists, and industry players a more meaningful, more magical way to celebrate live music and the human connections it empowers. Because at Paarti, live isn't just an in-the-moment experience — it's the unforgettable connections that last long after the house lights come up."
Luciano, Chilean-Swiss DJ and producer, one of the artists headlining the upcoming weekend-long event says:
"We live in such a strange world due to COVID-19, and it is very important for us artists to keep the music loud. By joining this livestream, we can keep the arts alive together by reaching out to people around the world to support our community. This is our resistance, and we will keep active, even with every intent to shut us down. No matter what, we will continue to turn the volume up and continue what we've always done –– connecting and inspiring people over the power and joy of music."
Versuz Dance & Nightclub, a 1200-capacity nightclub in Hasselt, Belgium and one of 13 top international venues participating in the event says:
"During the past year, it became clear that the importance of getting together and enjoying music and life together cannot be underestimated. Of course, nightlife has a top layer that's all about partying, big effects, and a crazy atmosphere — but under that layer, there's a uniting vibe that can create friendship, love, and community.
And it's exactly that vibe that is missing in so many peoples' lives and live-streaming platforms right now. Any initiative to bring people together, like this event, is something we gladly support, because it is what everyone really needs right now."
Watch the official teaser below!