Following the announcement of the release date for new nightlife documentary Where Love Lives, full details for Glitterbox's unique three-part premiere event for the film have now been revealed.
The virtual extravaganza will start on YouTube at 4pm GMT on Thursday 18th March with DJ sets from Melvo Baptiste, Jellybean Benitez and Dimitri From Paris, followed by the world premiere of Where Love Lives at 8pm GMT and closing with a two-hour after-party with DJ sets from Natasha Diggs and Fat Tony. London-based DJs Melvo Baptiste and Fat Tony will be streamed from the capital's most iconic and historical music venue, Royal Albert Hall.
Moving seamlessly from world-class DJ live streams into film premiere, the event will use YouTube's new Live Redirect technology to combine Glitterbox's unmistakable soundtrack of house and disco music with the film's launch, broadcasting the whole event completely free to nightlife lovers around the world.
A venue that has existed since 1871 to promote the Arts, which has seen many a historic cultural moment thanks to its world-leading program of events and broadcasts, the Royal Albert Hall has welcomed the Glitterbox DJs and a small team working socially distanced to ensure this mission continues while the Hall remains closed to the public.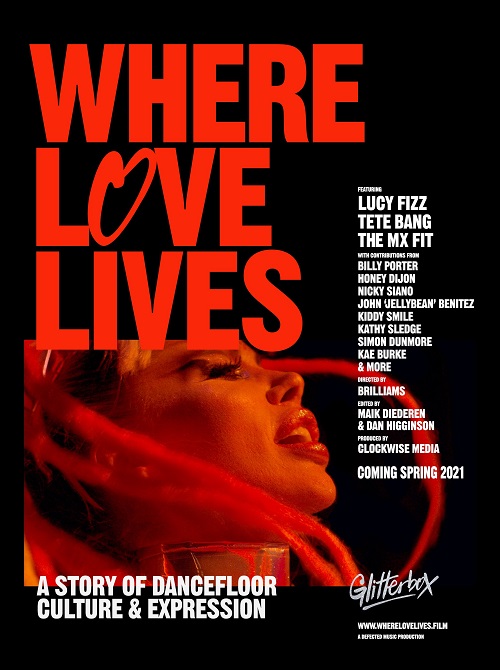 Its world-famous interior, with red velvet tiered seating and grand 'in the round' amphitheater, will be transformed for one night only into a club stage bedecked with disco lights, mirror balls, and a catwalk fit for Glitterbox's troupe of club kids, drag queens, and go-go dancers. Meanwhile, disco royalty Dimitri From Paris' set will be streamed from Paris, Jellybean Benitez from Miami, and Natasha Diggs from Brazil, making this a truly global and COVID-safe coming together of DJ talent.
A project that has been two years in the making, with filming taking place around the world pre-lockdown, Where Love Lives will be available to watch globally on the service after the premiere.
Where Love Lives is a story of music's enduring power to manifest diverse and inclusive community, and the power of that community to accept and embrace, to liberate, even to save lives. It's a story of acceptance and creative expression – empowered, enabled and soundtracked by club music.
Glitterbox ambassadors Lucy Fizz, TeTe Bang and The Mx Fit take centre stage, opening up about the deeply personal moments that brought them to their calling in clubland, and what they found there that made them stay. Through extensive exclusive interviews with titans of nightlife culture, Where Love Lives contributors Billy Porter, Honey Dijon, Kathy Sledge, Kiddy Smile, John 'Jellybean' Benitez, Kae Burke (House Of Yes), Fiorious and many more explore how those driven to the margins of society are welcomed unconditionally to the center of the dancefloor.
For the first time using YouTube's recently released Live Redirect and 'premiere' technology, Glitterbox alongside parent label Defected will be connecting the dots between live streaming and film launch, to turn the premiere into a huge global watch-along event – the next step in Defected's multi-award-winning Virtual Festival series, which saw YouTube collaborate with the labels in 2020 to reach millions of people worldwide through live-streamed events.
The Where Love Lives premiere event exclusive to YouTube, will start at 4pm GMT on Thursday 18th March 2021 with the premiere starting at 8pm GMT.