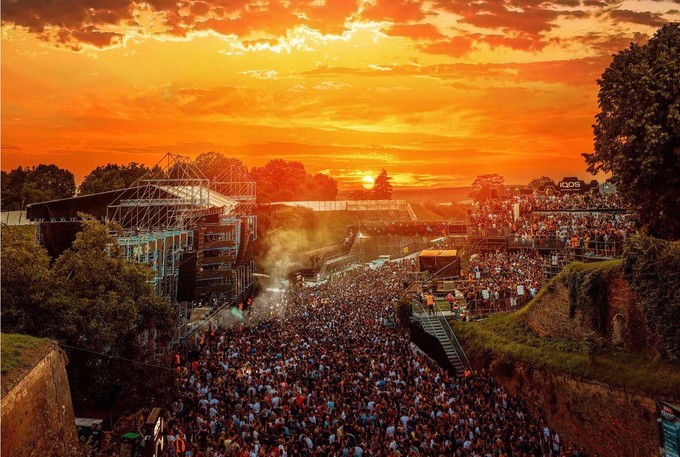 EXIT Festival is on course to be the first major international festival of 2021 and the organisers are excited to be adding 20 new names to the event's all-star line-up.
Besides already confirmed headliners including David Guetta, DJ Snake, Tyga, Eric Prydz, Four Tet, Solomun, Boris Brejcha, Paul Kalkbrenner, Nina Kraviz, Honey Dijon, Metronomy, or Sheck Wes, now the Novi Sad based event welcomes Asaf Avidan, Artbat, Meduza, Sabaton, Hot Since 82 and many more in the line-up for this year's 20th anniversary celebrations.
Last weeks's official announcement of the local authorities giving the green light for the 2021 edition of EXIT caused exhilaration of festival fans worldwide, giving hope that we can look forward to the end of the pandemic soon. EXIT is celebrating its 20th anniversary this year, but besides birthday cakes it will also be the celebration of our newly found life, returning to the magical venue of the Petrovaradin fortress from 8 to 11 July.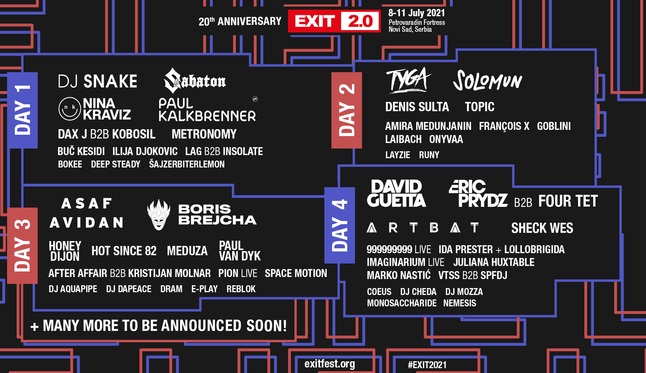 At the request of the audience comes Artbat, currently one of the world's leading electronic artists, then the great Israeli singer-songwriter Asaf Avidan, the Italian hitmakers Meduza, owners of hits such as "Piece of Your Heart", "Lose Control" and "Paradise", British tech house master Hot Since 82 and one of Europe's biggest heavy metal bands – Sabaton.
The strong line-up of new additions also includes the creator of the mega-hit "Breaking Me" – the German producer and DJ Topic, the globally loved music artist Amira Medunjanin, and the super-popular local electro-rock duo Buč Kesidi, have reserved a special place.
These acts join the previously announced headliners, led by David Guetta, DJ Snake, Tyga, Eric Prydz, Four Tet, Solomun, Boris Brejcha, Paul Kalkbrenner, Nina Kraviz, Honey Dijon, Metronomy, Sheck Wes, and many others.
A colourful line-up is coming to the many stages of the Festival, and performances from a popular regional artists are also confirmed including; Ida Prester with Lollobrigida, Nemesis, Dram, E- Play, Deep Steady and Šajzerbiterlemon, and a local trance line-up consisting of Pion live, Imaginarium live and DJs Aquapipe, DaPeace, Mozza and Ched.
EXIT has also launched it's most popular ticket sales offer for groups of friends "Buy 4, get 5" in which the fifth ticket is given free of charge for the four purchased tickets. This offer will only be available while stocks last, so what are you waiting for, call your friends and book the festival holiday you have been waiting for now.
Besides celebrating life, EXIT's main focus is on health and safety, so the related measures to keep the event safe will be continuously published on the official EXIT website, in accordance with health measures set by local authorities and the Serbian government.