Hailing from Los Angeles, birrdbath is a new exciting underground dubstep duo to touch down on the electronic music scene. Recently dropping their epic debut EP – titled 'Flight Plan', launching their unique high energy sound & providing a tantalising taste of what's still to come.
We caught up with birrdbath to find out a little more about the guys behind this neon feathered duo!
1. Hi guys, thanks for joining us today & welcome to Rave Jungle! Can you introduce yourselves to our readers & share a little about your respective journeys into the industry leading up to birrdbath?
Thanks for having us, glad to be here!
Taylor – I mostly grew up in metal bands as a kid, and my production journey started with working in studios because we couldn't afford studio time. I ended up falling in love with production and engineering, and then after that did a 180 and got really into producing pop music. But always had an undying love for electronic music throughout all my musical phases since I was a kid, which shortly after led me into this world, and it has been the most fulfilling so far.
Nathan – Yeah like Taylor i was a metalhead growing up, mostly played drums, and was in and out of bands throughout my teenage years. I was taken to my first dubstep show when I was 18 and that's when I knew what I wanted to do.
2. Congrats on your debut EP 'Flight Plan' – can you tell us about the inspiration for the project & how you went about selecting which tracks would make the final cut?
Nathan – Thank you! We're excited about it as well. These are some of the first projects we worked on together and we believe this EP is a good display of our progression over the past few years as producers. All leading up to what we're about to be putting out.
Taylor – We selected these songs because they evoke a certain emotion and tell their own individual stories. We felt that of the first sets of songs Nathan and I worked on together, these had the most personality.
3. Is there a specific meaning or back story behind the name "birrdbath"?
Taylor – Yes, absolutely. We struggled for almost a year to pick a name, we cycled through name after name, and after weeks we would end up hating the names we would pick. It eventually became a match of who could create the most stupid name for our group and it was a disaster. We thought since we both grew up in metal bands that we should pick a name that would fit well to represent where we came from.
One day I got struck with inspiration and said "Why don't we call ourselves "BLOODBATH!"" and in that moment it's like a beam of light surrounded Nathan, and he looked me dead in the eyes with a face that seemed absent of any rational thought and muttered the word "Birrdbath?" softly. We had a good laugh and said, "Yep this is it" and now there's no turning back.
4. When it comes to your collaborative production process, do you each have a specific area you focus on more?
Nathan – Throughout the creation of this EP, Taylor was more focused on melodies, and I was more focused on Sound Design. And we would mostly work off each other's strengths and embellish each other's ideas.
Taylor – Yeah, I Feel like we work off each other really well, we balance each other out. We know each other's strengths and weaknesses and help each other fill in the gaps. It's like tag team in the studio. Nathan is also a spazz on drums, he'll take 5 hours looking for one drum sample if he needs to so sometimes, I'll sit in the back and work on melodies while he goes through snare after snare. But for real our drums sound really good though so it's tight.
5. In one word, describe birrdbath's signature sound?
Bru-Tiful (Brutal and Beautiful)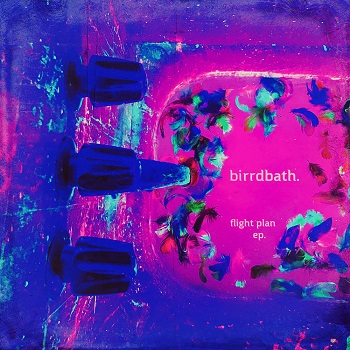 6. What's been the best show you've attended / performed at & what made it stand out?
Nathan – One of the best shows I've ever attended was when I was 13 and saw RUSH with my dad. Getty Lee was playing bass with one hand, piano with his other hand, piano with his feet and singing at this time. Someone just needs to get this guy ableton! But as far as EDM goes, my first EDC (2013) was probably the most profound experience I've ever had. Also, Zomboy's Set at EDC 2015 was the solidifying moment when I knew I had to learn how to produce Dubstep.
Taylor – If we are going back to 13 years old, not gonna lie, I saw Kid Rock when I was that age and that's the show that made me want to be a Rockstar and performer. The energy and stage setup were pretty unmatched and I'm pretty sure he shot fireworks at the crowd. But as far as EDM goes, I saw one of my favorite artists Gorgon City at 'chella and it was life changing. They had a full band setup and were bringing out all their vocalists, and it was a stellar performance, legit might have cried a little tear of happiness, but don't tell anyone I said that.
7. And finally, what's next in the pipeline for birrdbath & any exclusive news you can share with us?
Nathan – We are actually so excited to start releasing all the music we've been working on throughout this last year during quarantine. This lockdown really gave us the opportunity to work on our skills and put together an amazing collection of music.
Taylor – The next singles we're about to put out are going to be some envelope- pushers. There're some unique and next level things that we're pretty proud of in the next set of songs. As far as exclusive news, we also have a collaboration in the works with a well-known artist that we both love! …But more on that later (Taylor winks)
Listen to the EP below.