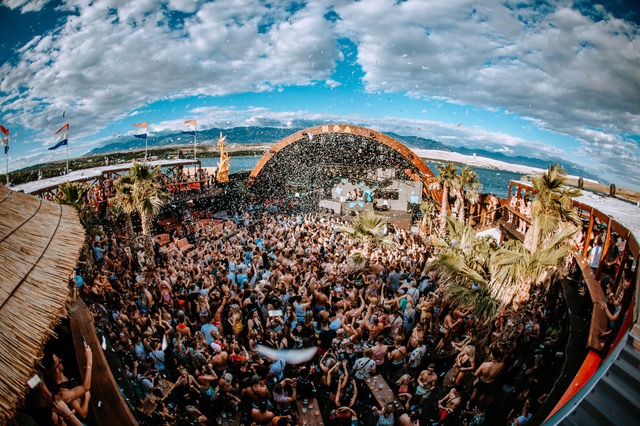 The long wait is nearly over and the final countdown can begin to this year's much anticipated, bigger than ever BSH Island. The stunning open-air weekender brings a real taste of Ibiza to Croatia with White Isle legends Amnesia Ibiza and Do Not Sleep Ibiza showcases as well as island regulars like Paco Osuna and Ilario Alicante.
It all plays out from July 1st to July 5th, 2021 with its main stage at Croatia's world-renowned Noa Beach Club situated on the famous Zrće beach on the Island of Pag.
Helping to bring the festival to life will be the Amnesia Ibiza off-location showcase at the historic old 17th-century Fortress on Pag Island on July 2nd plus iconic dance brands such the edgy Do Not Sleep Ibiza crew as well as after-hours at the equally essential Kalypso Club, also on the beach, plus an Under No Illusion Recordings showcase, Pablo's House and some special soon to be announced secret pop-ups and boat parties.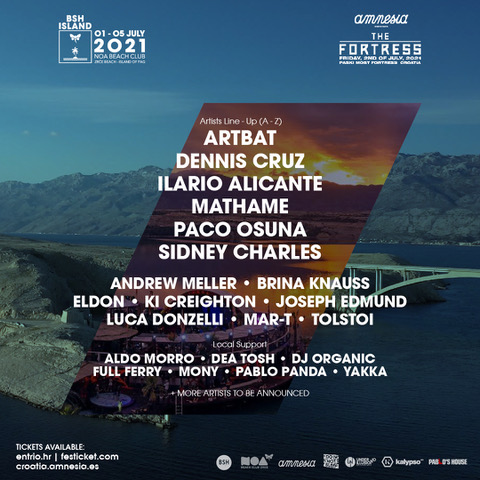 Musically, every shade up upfront house and techno is covered with style and depth thanks to agenda-stetting headliners like Spanish titan Paco Osuna, house hitmaker Dennis Cruz, Ibiza legend Ilario Alicante, Ukrainian melodic pair ARTBAT and Italian synth maestros Mathame, Brina Knauss, Sidney Charles and Mar-T as well as special guests to come and some cutting edge sounds from fast-rising local talents.
Once again this year, the Adriatic sea awaits all BSH Islanders, with its glistening clear blue waters, red hot summer days and stunning evening sunsets. The carefully curated soundtrack will be booming from the speakers of Noa Beach Club, one of the most impressive and stylish venues in the region with uninterrupted views out over the sea.
International Artists
Paco Osuna, Dennis Cruz, Ilario Alicante, Artbat, Mathame, Brina Knauss, Sidney Charles, Andrew Meller, Joseph Edmund, Mar- T, Ki Creighton, Tolstoi
Local support
Yakka, Pablo Panda, Full Ferry, Aldo Morro, Dea Tosh, Mony, DJ Organic
Brands
Amnesia Ibiza (Fortress), Do Not Sleep, Under No Illusion, Pablo's House
Tickets are now available for the BSH Island program via the link