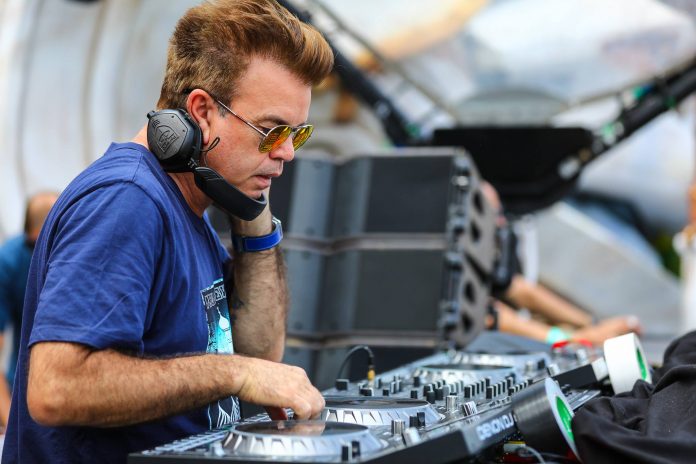 Released today exclusively with streaming movie and music service, FlixFling, 'SoundTrek: A Music Journey To Mount Everest' is a documentary film that captures electronic dance music pioneer Paul Oakenfold's April 2017 hike through Nepal's remote villages and the Himalayan Mountains for a groundbreaking live concert event, a DJ set at the base camp of Mount Everest.
Set at an altitude of 18,800 feet above sea level (breaking a world record) on Mount Everest, the "highest concert on earth" was seen by a worldwide audience of more than three million when it streamed live.
The three-hour concert marked the first SoundTrek event with each of the planned epic experiences around the globe to encompass aspects of music, travel, live performances, premium content, and philanthropy, while also bringing attention to critical issues facing local communities.
SoundTrek MOUNT EVEREST raised money for Supporting Nepal's Children and Youth Music. New charities will be chosen for each SoundTrek expedition based on the local relevance of each iconic location.
"The success of SoundTrek Mount Everest was just the beginning," Paul Oakenfold says. "Based on the amount of money raised for charity and the global success of the adventure, I plan to do many more SoundTreks around the globe."
For the expedition to Everest, Oakenfold was joined by a skilled team, each of whom had a critical role in the venture. The man behind SoundTrek is Executive Producer Josh Heffler, a well-known entrepreneur and FlixFling partner who organizes large-scale concert events with unique concepts.
"Not only is SoundTrek an amazing concept to entertain people, but I really got behind it because I had the opportunity to directly help underprivileged people in numerous locations," Heffler says.
World-renowned mountaineer and Everest guide, Kenton Cool led the pack up the mountain. Cool is an acclaimed British mountaineer and expedition leader who has reached the summit of Everest twelve times. He has appeared on the world's leading broadcast channels from the BBC to ITN, as well as been featured in a one-hour documentary for BBC 4 & The Discovery Channel.
"Of my 13 summits to Mount Everest, the day of the SoundTrek concert was easily the best day I have ever had on Everest Base Camp," Kenton Cool notes.
Also on board, Mark Brimblecombe, owner of Attica Nightclub in Singapore and co-creator of SoundTrek, and Johannes Mahmood, a trainer representing Equinox Gym who attended the trip to ensure the SoundTrekkers were in top physical shape, leading stretching exercises and workouts as daily conditioning before and after each hike.
"SoundTrek is ultimately about people and the connections made with others in these experiences," says Matthew Walk, SoundTrek co-creator.
"For me, it is the pinnacle example of how relationships are forged and how the bonds made between individuals can resonate change and awareness in the world. I'm blessed to be a part of it and one day show my children what we can do when we work together with an open heart and a determined mind."
The epic event was captured by internationally recognized and award-winning cinematographer, Mark Fisher, of Fisher Creative.
Watch the documentary film via the link.