Belgian superstar DJ and producer Lost Frequencies has just dropped a remix of the new twocolors smash 'Bloodstream'.
Steeped in contemplation and emotion, the Lost Frequencies remix of 'Bloodstream' centres around shimmering pads and glistening synths – while losing none of the anthemic energy that makes the original so special. Released last month, 'Bloodstream' has already racked up 13 million global streams.
"'Bloodstream' is a song about a broken relationship." twocolors previously explained. "When every cell in your body craves for the other person, and you are going through the motions. You just can't do without. 'I'm just going through withdrawals', 'Bloodstream' reminisces about a love lost, aching for one more shot to feel alive again."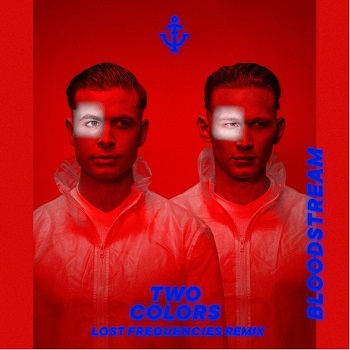 When it came to choosing a remix artist, there was simply no other choice than Lost Frequencies:
'We are big fans of Lost Frequencies. Songs like 'Are You With Me' and 'Reality' have shaped us creatively in our approach to making music. We are very happy that he has now remixed our single "Bloodstream" and we remixed his track "Rise". We look forward to meeting him in person, as soon as regulations allow for it. Exciting times!' – twocolors
The Lost Frequencies remix of 'Bloodstream' sees twocolors collaborate with one of dance music's most cherished talents – with dazzling results.
Listen to the track below.