Great news! Restrictions have been lifted in Romania and we are already super excited for the new edition of our favorite dance music festival, UNTOLD in Cluj-Napoca, which is now officially happening and is open to everyone.
The Romanian authorities have just dropped a huge surprise for dance music fans all around the world, announcing that starting August 1st, access to major events, such as festivals, will be allowed for all festival-goers, as follows:
● persons vaccinated against the SARS-CoV-2 virus, for whom 10 days have elapsed since
the completion of the complete vaccination schedule
● people who test negative for an RT-PCR test for SARS-CoV-2 virus infection, not older than 72 hours
● the certified negative result of a rapid antigen test for SARS-CoV-2 virus infection, not
older than 24 hours
● people between the 15th and 180th day after confirmation of SARS-CoV-2 infection.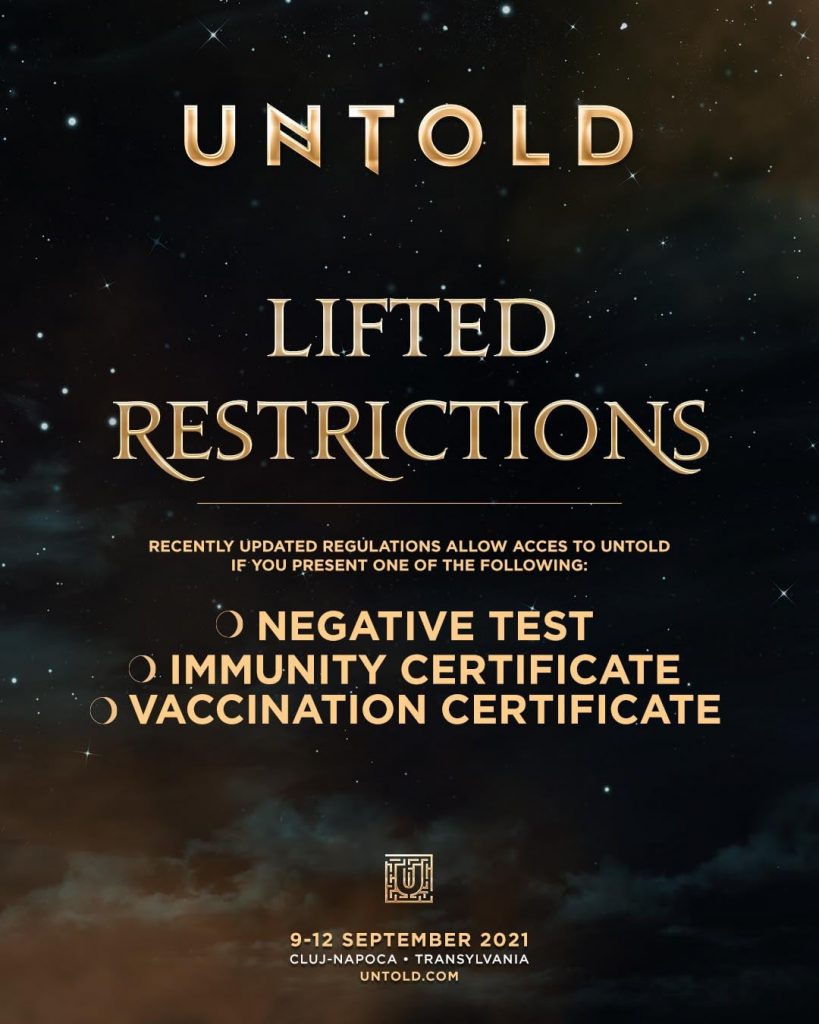 People who have bought 4-day passes or daily tickets have at this time the guarantee
that access to the perimeter of the UNTOLD festival will be granted if they present a
negative RT_PCR test, can prove immunity, or are vaccinated, according to the rules stated
above.
Also, the social distancing measures within the festival perimeter have been eliminated, all the norms being in accordance with the applied scientific studies.
The hard-working organizers of the world-renowned music festival thank the Government of Romania for their trust. The support that the authorities have shown through this new set of measures is proof that they want to restart the cultural sector, but also provides a guarantee that UNTOLD festival will be held in September, in the same well-established format, and in the safest conditions.
Here's what Bogdan Buta – CEO of UNTOLD, had to say about this decision:
"We thank the Prime Minister, members of the Government, for their trust. The new measures are a strong evidence that the cultural sector is being restarted. I am certain that the safety plan we presented to the authorities is above any other event organized so far! We want it to become a global model, and in this way to allow, in similar conditions, the organization of events in a 100% safe environment from now on " 
Authorities have announced that this year the festival will have a limited capacity of
up to 75,000 participants per day. Thus, those who want to participate in the most
anticipated festival in Europe in 2021, must hurry to catch the remaining 4-day passes and
daily tickets HERE!.
The festival organizers announced that they are preparing a new announcement of
superstar names, who will perform in Cluj-Napoca this fall. They will join the already announced world-class artists including: David Guetta, Martin Garrix, Dimitri Vegas & Like Mike, Steve Aoki, Alok, Afrojack, DJ Snake, Lost Frequencies, Benny Benassi, Martin Solveig, The Script, Parov Stelar, and the American rapper, TYGA.
UNTOLD 2021 is a national and international symbol of entertainment, joy, and fun,
in the safest conditions. Festival fans, guest artists, suppliers, industry workers all want to
resume their activity, after such a long break. UNTOLD festival will definitely be the perfect example through which we can enjoy, have fun, live life fully and safely.
Through the freedom to participate in the festival, both for those tested and with proof of vaccination, scientific studies conducted in Europe show that the festival is becoming the safest public place.
All studies carried out so far have confirmed that, in these conditions, it is safer to go
to a large event than to go to any other public place. The latest scientific study on this topic
was made after the EXIT festival, held in Novi Sad, Serbia. This event, organized in July, was attended by over 180,000 people from all over the world, and following the study carried out during and after the event, no case of infection was registered.
The UNTOLD festival takes place between September 9-12, 2021 in Cluj-Napoca. Prepare yourselves for a magical edition!