After the soaring release of 'Balearic Mornings' which has already amassed over 400.000 streams in just a week since its release, Reinier Zonneveld and HI-LO are back with the second and final single of their EP, 'Existencia'.
The Dutch techno artists found the perfect synergy in the studio when they met for the first time amidst the pandemic, the fruits of their labour are sending immaculate vibes across dancefloors worldwide as DJs finally return to touring.
The 'Balearic Mornings' EP was inspired by the beauty of Ibiza and dancing from dusk to dawn as the sun rises for another day. 'Existencia' is a driving, rolling track with big drums, euphoric chords and a real sense of powerful forward motion. Of course, some textbook acid also arrives to race along next to the bass and ensure maximum dance effort impact.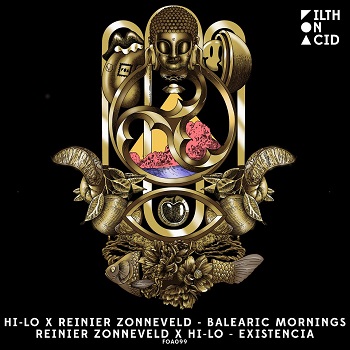 It's the 99th EP on Reinier Zonneveld's iconic Filth on Acid label and fans can't get enough of inimitable sounds the newly found pair continue to deliver. Their recent 'Saw of Olympus' remains the most streamed techno track on Spotify since its release, and after only a handful of studio sessions, the two crazy-talented producers have plenty more gems on the way.
Listen to the track below!