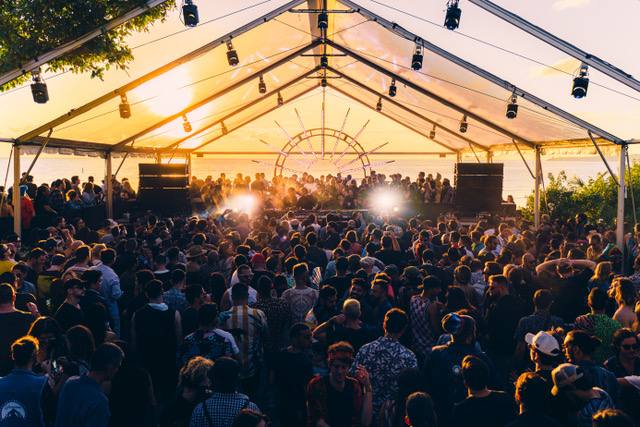 Life and Death and Innervisions's collaborative party Rakastella is all about love – love for music, love for one another, love for exotic locations and for the unpredictable magic that occurs when good people dance to cultured sounds.
Showing true resilience after a two-year break, the sustainable oceanside festival is back on December 4th, 2021. Expect diverse and eclectic musical thrills, special sunset moments and breathtaking vistas at the historic and picturesque Virginia Key Beach Park, Miami, with headliners Âme, Anfisa Letyago, Ash Lauryn, Avalon Emerson, Ben UFO, Dixon, Eris Drew & Octo Octa, Jayda G, DJ Harvey, DJ Holographic, Jimi Jules, DJ Minx, DJ Tennis and many more exclusives.
Rakastella's unforgettable 2019 edition left people wanting more. It set a new benchmark for eco-friendly musical experiences, and now it returns with another thoughtful lineup that covers both established international greats with vital emerging newcomers from all manners of diverse backgrounds.
The world-class music plays out over multiple stages, all with their own unique identity and special production. The one and only dance-punk DJ Harvey will play an exclusive set, while Âme & Dixon play one of their famous back-to-backs, Eris Drew and Octo Octa make a long-awaited back-to-back Miami debut and are sure to bring their high energy sounds, while Innervision artist Jimi Jules brings his enchanting grooves.
On top of that come diverse DJs from all over the world and many different genres such as the UK's Ben UFO, Atlanta-based house heroine Ash Lauryn, Detroit's revered DJ Holographic, Detroit's "First Lady of Wax" aka DJ MInx, electronic innovator Avalon Emerson, hit-making party starter Jayda G and many more.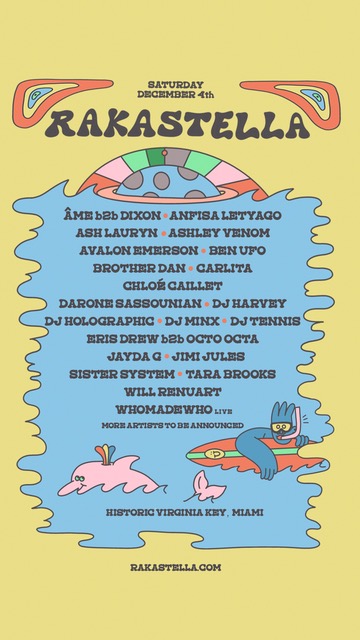 This idyllic gathering plays out in Virginia Key Beach Park, which dates back to 1896 and the formation of the state of Miami itself. The barrier island park features expansive wetlands, scenic beaches and sweeping views of the bay and the Atlantic which make for a unique backdrop for spine-tingling musical moments when the sun sets.
Rakastella is hugely respectful of the local environment and ecology so they are proudly bringing back the Keep Her Wild program, powered by Ascendance Sustainable Events. This mission is to protect the beautiful Virginia Key and minimize the event's environmental impact and raise attendee awareness. All single-use plastic and styrofoam are banned at the festival, there is a return of aluminum canned water, paper cups and vendor compliance requirements.
Rakastella is a unique opportunity for endless discovery and a wealth of experiences that enrich the soul.