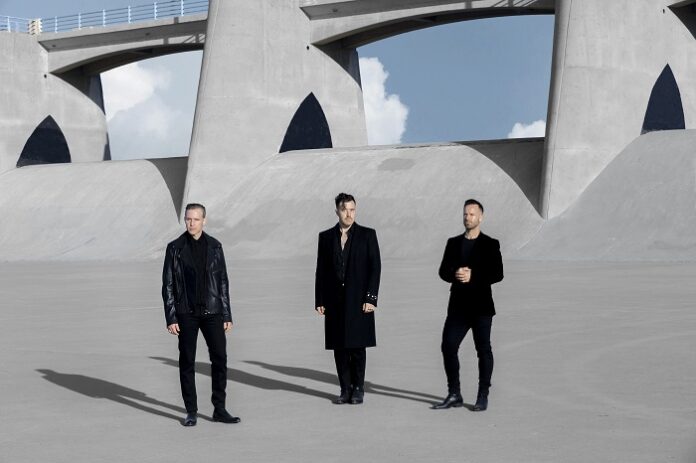 Grammy-nominated live-electronic trio RÜFÜS DU SOL released their fourth full length studio album Surrender on Rose Avenue and Reprise / Warner Records.
Surrender represents a new chapter in the world that the band has been shaping and nurturing since their inception. Built on their own terms as they travel down their own distinct sonic lane, they expertly bridge the gap between their electronic roots and prowess as live musicians. The record demonstrates a bolder and braver sound than they've created in the past, a result of a culmination of influences from Trent Reznor and Nine Inch Nails to Moderat and Jon Hopkins.
Previously released singles from Surrender have already racked up almost 50 million combined streams across platforms, illustrating the excessive demand for the band's return and anticipation for the full record.
From the yearning for love and romance in Surrender's opening track 'Next To Me', to the hopeful emotions portrayed in 'Alive', and anguished sense of 'On My Knees'; the album once again demonstrates RÜFÜS DU SOL's ability to separate themselves from other stadium selling live artists, writing songs that consistently enthrall the individual just as successfully as a crowd of thousands.
The record also sees RÜFÜS experiment with collaboration for the first time, welcoming Curtis Harding to the fold on the album's title track as well as an LA based children's choir on both the title track and 'Make It Happen'. It is this depth of field that results in something that feels more human and heartfelt than ever before.
The accompanying music video for 'I Don't Wanna Leave' was filmed in Lancaster/Palmdale, CA and directed by the band's creative director, Alex 'Katzki' George. The performance piece bears resemblance to RÜFÜS DU SOL's striking live performance, and is set against an industrial backdrop of power lines that litter the horizon of the Mojave desert.
Prior music videos released alongside their album singles continued to expand the visualization of the RÜFÜS DU SOL universe, thanks to unique interpretations from acclaimed directors and production companies. Most recently, the band's creative director, Alex 'Katzki' George, collaborated with Ruff Mercy, an animation director and artist based out in the UK to create visuals/animations on top of the video, giving the 'On My Knees' project a darker 90's rave vibe.
'Alive' saw director James Frost and entertainment company EPIC Games blur the line between reality and make-believe by utilizing EPIC's Unreal Engine, the world's most open and advanced real-time 3D creation tool. Lastly, RÜFÜS DU SOL tapped futuristic directors Osk to create A.I.-generated topographies and immerse viewers into new complex landscapes in their video for 'Next To Me'.
The album arrives in the run up to a whirlwind touring and festival season for the band, which has already seen them perform parts of the new project on world renowned stages such as Red Rocks Amphitheatre, Austin City Limits, and Governors Ball. With festival stints at III Points Miami and Outside Lands San Francisco still to come, Surrender gives RÜFÜS DU SOL fans a unique opportunity to accompany them into their world.
Their North American tour kicks off in November, hitting cities across the south west of the country. A major highlight of their touring schedule rests at the Los Angeles Banc of California stadium, where for three consecutive nights, 70,000 fans will come to see them perform. Two additional nights had to be added to keep up with demand, making this the band's largest LA performance to date.
Surrender marks a huge milestone for Tyrone, Jon George and James. Not only is it a record that can effortlessly thrive on a dark and brooding dance floor, but it flourishes just as impressively in a stadium of 25,000 people. Surrender is a message of personal maturity and of a deep connection to their community, as RÜFÜS DU SOL find themselves comfortably expressing their personal pains and heartaches for all to bear witness. This mutual reassurance between artist and audience is what continues to set RÜFÜS DU SOL apart, as everyone unites to understand themselves and explore the otherworldly, together.
Listen to the tracks below.