Over the past decade Lee Burridge's All Day I Dream has captured the imagination and hearts of music lovers everywhere, offering magical daytime experiences that focus on the community as much as the music. In 2022 the consummate emotive party takes it to the next level with its first-ever weekend long camping event. On May 12-15 The All Day I Dream Festival arrives in the lush surrounds of California's Woodward Reservoir in Oakdale, California.
The warm and welcoming culture All Day I Dream has consciously fostered across its broad community of fans invites them to be as much part of the event's vibe as the music itself. Furthering this, the festival's ambitions offer the opportunity for attendees to experience positivity, happiness and a sense of well being at every turn, from musical performance to culinary delights, art installations, as well as yoga, breathwork, and meditation.
Woodward Reservoir's serene natural landscape presents the perfect backdrop to a weekend filled with love and creativity. Wander, explore, smile, dance and mingle with an amazing array of beautiful and kindhearted dreamers.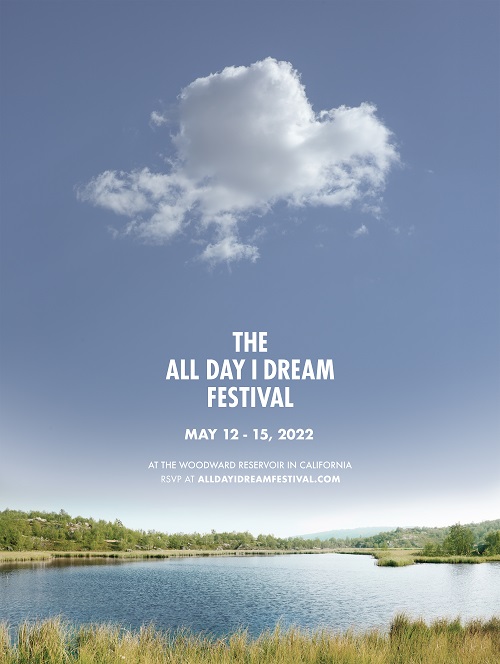 With the musical soundtrack for the weekend concentrating on an emotive, melodic driven vibe it brings together not only the All Day I Dream label's diverse roster of global artists but, for the first time, invites headlining bands from the alternative electronic space who fall into the "feels" category. The festival line up promises a weekend of musical bliss whichever stage you visit.
All Day I Dream returned in 2021 with a globe-spanning, dance floor rocking, summer tour. It reprised its Mykonos and Ibiza residencies as well as sell out events in New York, London, Chicago, Los Angeles, Denver, and San Francisco.
The label also had it's most successful year to date with established artists such Lee Burridge, Sébastien Léger, Amonita, Fulltone, Lost Desert, and Tim Green releasing new singles that all hit the number one spot on beatport (organic house) chart as well as albums from Gorje Hewek, Pippi Ciez and Powel soundtracking Summer across the world. It's current release from newcomer Dim Kelly is currently crushing the Organic house top 100.
The All Day I Dream festival invites longtime 'dreamers' and new faces alike to gather together next May and make new friends, fall in love, dance until dawn and dream up all kinds of fabulous fun together.