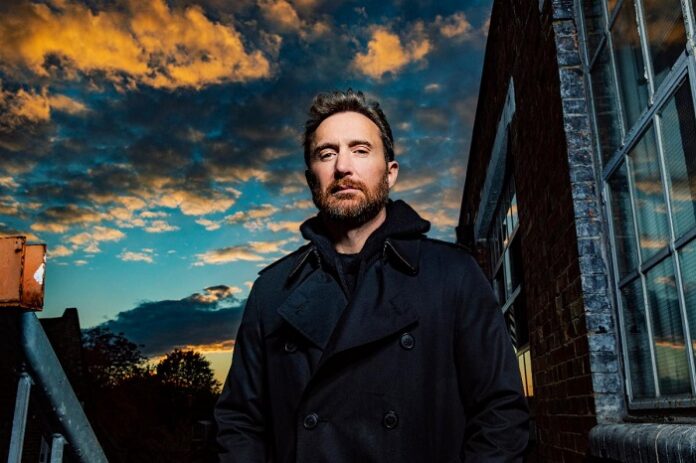 World-renowned DJ and producer David Guetta and Louvre Abu Dhabi are joining forces to deliver a state-of-the-art production that unites, inspires and brings energy to people around the globe.
Following the great success of the third edition of his show United at Home at the Musée du Louvre on New Year's Eve 2021, the superstar will give a spectacular show at Louvre Abu Dhabi for this New Year's Eve. Fans around the globe will be able to watch the show online here on January 1, 2022 at 12 am, Gulf Standard Time (December 31, 2021 at 9 pm Central European Time, 3 pm Eastern Standard Time).
David Guetta will perform on a purpose-built floating stage constructed in the waters surrounding Louvre Abu Dhabi by a specialist team of craftsmen, riggers and scuba divers from the UAE and all over the world. Set against the backdrop of the museum's iconic architecture, the show will feature music and a world-class light show. Integrating projections of masterpieces from Louvre Abu Dhabi's collections, this unique performance will celebrate the museum's vision of art and culture as universal sources of joy, communion and understanding.
H.E. Saood Abdulaziz Al Hosani, Undersecretary of the Department of Culture and Tourism – Abu Dhabi added:
"To have a global artist who is loved around the world, combined with the iconic architectural artistry of the Louvre Abu Dhabi and the wonders it houses, is phenomenal. We are proud that we can host this unmissable moment in Abu Dhabi, a destination that brings communities together and welcomes visitors from across the globe. The sheer scale of David Guetta's performance at Louvre Abu Dhabi will be one to witness this New Year's Eve."
Commenting on this collaboration, Manuel Rabaté, Director of Louvre Abu Dhabi said:
"Unifying, universal and uplifting, David Guetta's music is the perfect auditory analogue for what we are working to achieve at Louvre Abu Dhabi. As the first universal museum in the Arab World, Louvre Abu Dhabi affords the achievements of all peoples and cultures with equal respect, while celebrating profound moments of exchange and encounter. David's show at the museum, which combines so many influences, will represent a truly global example of culture and creativity when it is streamed online on New Year's Eve."
With its global following and messages of joy, hope and optimism, David Guetta's music unifies people regardless of culture or geography, creating experiences that chime perfectly with Louvre Abu Dhabi's values and mission. As the first universal museum in the Arab world, Louvre Abu Dhabi tells stories of cultural encounter, exchange and connections while exploring the common experiences, ideas and values that unite people, helping us to realise that we have more in common than we realise.
Superstar David Guetta said:
"The Louvre is one of the most iconic venues in the world and I am so excited to be playing at the Abu Dhabi counterpart this New Year's Eve after the success of my Paris livestream last year. It's an honour to be invited to come and perform; we've got out of this world production once again this year and it's going to be an electrifying show and an amazing night. I can't wait to connect with you all and celebrate the New Year together."
Generated by more than 500 light fixtures located around the floating stage, Louvre Abu Dhabi's dome and the surrounding water, the world-class light show will include 20-metre-high flames that will shoot into the night sky, perfectly choreographed to compliment the DJ's set. The show will also feature the visualisations of masterpieces from Louvre Abu Dhabi's collection, including:
· Georges de la Tour's Girl Blowing on a Brazier (c. 1646 – 1648 CE)
· Astrolabe Quadrant (ca. 1291 – 1310)
· Mirror with Taoist Divinities (201 – 400 CE)
· Under the Wave off Kanagawa, also known as The Great Wave, from the series of Thirty-six Views of Mountain Fuji (1831) by Katsushika Hokusai
· Piet Mondrian's Composition with Blue, Red, Yellow and Black (1922)
· Feline-shaped Incense Burner (Eastern Iran or Central Asia, 1000 – 1100)
· Sphinx, Mythological Creature from Greece or Italy (600 – 500 BCE)
· Table Top Known as "Tavolino di Gioie (ca. 1568 – 1577) by Bernardino di Porfirio da Leccio (sculptor), designed by Giorgio Vasari
· Craved Panel from the Umayyad Period (10th century)
· August Rodin's The Walking Man, On a Column (1900)
· Statue of a Winged Dragon from Northern China (450 – 250 BCE)
A cinematic broadcast and drone shoot will capture David Guetta's show, which will premiere on the artist's YouTube channel on January 1, 2022 at midnight (New Year's Eve), Gulf Standard Time (December 31, 2021 at 9 pm Central European Time, 3 pm Eastern Standard Time).