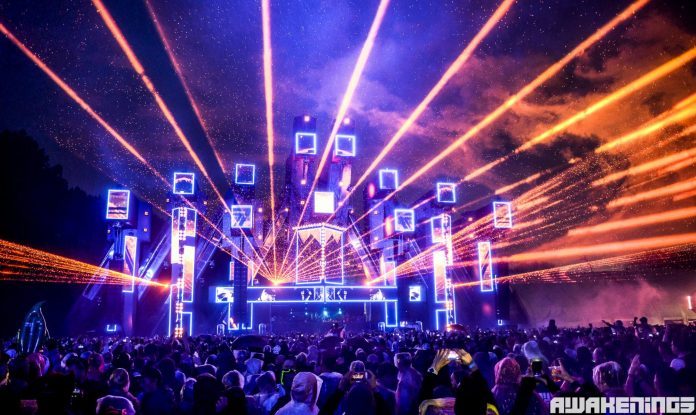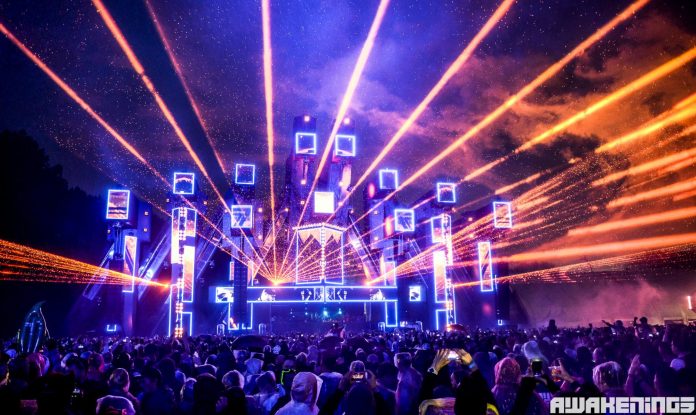 This year, from the 29th until the 31st of July, Awakenings will descend upon Hilvarenbeek for the celebratory debut edition of the Awakenings Summer Festival: a three day techno weekender, including campsite.
Today the techno powerhouse is revealing the full lineup consisting of 131 acts, spread out over three days of pounding beats at the brand-new festival site in Hilvarenbeek.
For every event Awakenings manages to come up with the biggest and boldest lineup a techno lover can imagine, and this time around will be no different. Awakenings has prided itself in booking diverse and encompassing lineups and this time around will be no different. Aside from the regular heavy hitters like Charlotte de Witte, Adam Beyer and Richie Hawtin, a slew of rising talent will be making their way down to Hilvarenbeek. No less than 27 acts on the line-up are slated to debut at Awakenings Summer Festival this year. Among them are Call Super and Bambounou, mainstays in the alternative club-scene for years.
Other notable names on the lineup are local talents Philou Louzolo and Nicky Elisabeth, international upcoming acts Hector Oaks and Adiel as well as global mainstays who will be making their Awakenings debut such as Skream and Denis Sulta. Once again Awakenings is putting themselves in the unique position of booking a highly progressive lineup for one of the world's biggest techno events.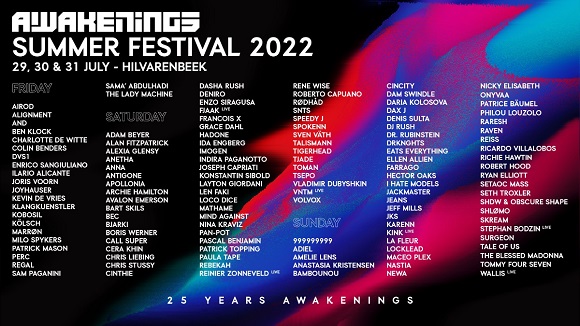 "After two years of absence, we cannot wait to be back in the field again. This year we will celebrate our 25th anniversary with a completely new festival with a camping site and three days of music with many familiar and new faces. We never had so many debuts on one event. It feels like we are getting ready for the next 25 years" says Michiel Tettero, music director of Awakenings.
Next level Awakenings
Awakenings Summer Festival is the culmination of a quarter century worth of pioneering techno events, celebrating the 25th anniversary of Awakenings. Pundits can expect a festival with the typical top-quality production with added elements in order to honour the special occasion. More artists, more stages and more days of partying open up doors for a truly next-level Awakenings experience. Techno-lovers can travel to Hilvarenbeek during the last weekend of July from far and wide, with the possibility of staying at the camping site or one of the many other types of accommodation offered on site.
Ticket sale
Weekend tickets for Awakenings Summer Festival will go on sale in multiple phases. Starting on February 17th for people who are in possession of a voucher due to a previously cancelled Awakenings event. On the 24th of February, everyone that hasn't a voucher but who has pre-registered (which is still possible until February 17 midnight via the Awakenings website) will have access to the ticket sales and finally on March 1st any remaining tickets will become available to the general public. Single day tickets will go on sale later on this year.