Over the past decade, Lee Burridge's All Day I Dream has captured the imagination and hearts of music lovers everywhere, offering magical daytime experiences dedicated to the community as much as the music. On May 12-15, The All Day I Dream Festival will debut in the idyllic surroundings of California's Woodward Reservoir in Oakdale, California to offer its first-ever weekend long camping escape.
For the festival's inaugural lineup, Lee Burridge will bring together the ADID family from around the world and an eclectic mix of live acts at a serene natural setting.
Lee's global reputation and keen ear for live electronic wondery helped recruit heavy hitters like Anjunabeats' trio Cubicolor, who often produce live vocals, guitar and synths to deliver melodic hits in the techno and house worlds. Swedish electronic band Little Dragon will bring forth their unique style of unhurried, off-kilter R&B pop and electronics. Australian singer-songwriter and producer Ry X, known for fusing elemental emotions via live performances, will be joined by emotive electronic band GHEIST, who are set to offer their rich take on progressive house and techno textures.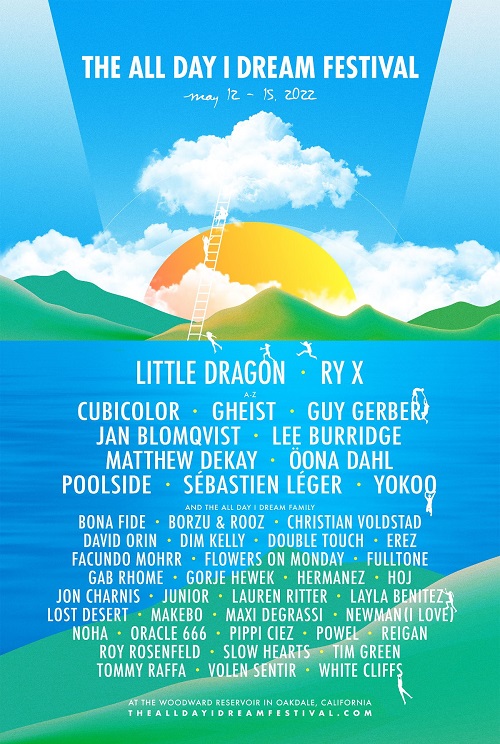 While ADID's typical DJ format will exist in full at its inaugural camping event, the live acts are at the core of a musical curation bent on experience as well as performance
Also joining the mix in May is acclaimed producer Guy Gerber, whose accomplishments span working with Puff Daddy, helming the decks at Pacha, to curating the iconic RUMORS global party series.
ADID Festival's homegrown DJ lineup is topped by Sébastien Léger, whose 20-year career has covered international hits to a recent Cercle performance at the Giza Pyramids. ADID's veteran presence will additionally be held down by Gorje Hewek, a longtime label member and head of the Shanti Moscow Radio, Tim Green, a global dance star who entered the ADID family with 2020's Vacation to Life EP, as well as cosmic powerhouse Öona Dahl.
Zone+, who packs releases with All Day I Dream, Anjunadeep, and Sol Selectas, will join fellow ADID Festival curator Hoj as well as Bona Fide, Gab Rhome, and Lauren Ritter. Lost Desert will be performing alongside vocalist Junior, known for his iconic collabs on the imprint. Additionally, The Netherlands' Matthew Dekay will help ring in this first full weekend ceremoniously.
Jan Blomqvist's set will bring a Live show feel to the dancefloor with his self-coined 'concert techno.' His virtuosic work as a solo artist and frontman of the band BLOMQVIST has yielded widespread acclaim from NY's Zero Parties to Burning Man – and will surely create a dreamy moment at the inaugural event. Also billed – Tel Aviv's Roy Rosenfeld, Argentinian Facundo Mohrr, and afro-house inspired acts like Pippi Ciez and Layla Benitez will add to the weekend's progressive melodic palette.
Top selling duo Volen Sentir contribute to the international intrigue alongside well-respected acts like YokoO and enigmatic deep house producer, Fulltone, who collectively boast releases with Crosstown Rebels, SATYA and Klassified Music.
Reaching beyond its normal cast of Dreamers – ADID Festival stretches to all those seeking a curated and intentional experience. With its international lineup of artists, ADID Festival will be the first label event with all its collaborators in one place. The event will feature multiple stages – including a signature All Day I Dream branded stage, a stage featuring bands and live electronica acts, an ambient stage, and a late-night stage that will run through sunrise.
Here's what Lee Burridge had to say about the upcoming festival:
"We know that bringing together a legion of music fans with a massive line-up of all our All Day I Dream artists, while at the same time pushing our own boundaries by inviting live bands is going to create a weekend of heavenly experiences for artists and fans alike."
Come get grounded and rejuvenate throughout the festival weekend at the waterfront sanctuary. The Sanctuary is produced by YBR Promotions and Waking Hour Wellness founder Brittany Tilleman, and offers daytime programming of yoga, sound healing, and meditation. Various wellness activities will be scheduled each day to bring more bliss and balance to each Dreamer's experience. Tilleman will be hosting the Waking Hour Sessions each morning with yoga and ambient beats provided by an all-star female crew.
Friday evening at sunset, join the Sound Immersion Experience with Danny Goldberg and Jeremy Falk Yoga. Goli Gabbay will be offering a couple courses in breathwork, mindfulness and yoga in her Journey to Flow State + Serenity class, as well as her Union of the Divine Masculine + Divine Feminine. Programming will be available starting at 9am Fri-Sun until sunset. More offerings to be announced.
The warm and welcoming culture All Day I Dream has consciously fostered across its broad community of fans invites them to be as much part of the event's vibe as the music itself. Furthering this, the festival's ambitions offer the opportunity for attendees to experience positivity, happiness and a sense of well being at every turn, from musical performance to culinary delights, art installations, as well as yoga, breathwork, and meditation.
Woodward Reservoir's serene natural landscape presents the perfect backdrop to a weekend filled with love and creativity. Wander, explore, smile, dance and mingle with an amazing array of beautiful and kindhearted dreamers. With the musical soundtrack for the weekend concentrating on an emotive, melodic driven vibe it brings together not only the All Day I Dream label's diverse roster of global artists but, for the first time, invites headlining bands from the alternative electronic space who fall into the "feels" category. The festival line up promises a weekend of musical bliss whichever stage you visit.
The label also had it's most successful year to date in 2021, with established artists such as Lee Burridge, Sébastien Léger, Amonita, Fulltone, Lost Desert, and Tim Green releasing new singles that all hit the number one spot on Beatport (organic house) chart – as well as albums from Gorje Hewek, Pippi Ciez and Powel soundtracking Summer across the world.
The All Day I Dream festival invites longtime 'dreamers' and new faces alike to gather together next May and make new friends, fall in love, dance until dawn and dream up all kinds of fabulous fun together.
For reservations, tickets, event inquiries or more information, please visit the link.