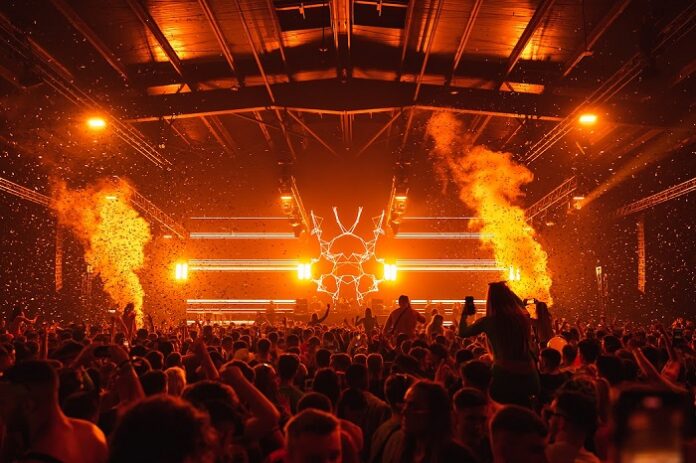 There was a huge sense of relief over Easter Weekend when Terminal V finally got back to doing what they do best after two and a half years away: throwing mind-blowing festivals and events with a long list of world class talents and a huge audience losing themselves in music.
The pandemic was but a memory when thousands lost themselves in the middle of the dance floor amongst the brain boggling production, and already thoughts are now turning to next year's Terminal V Easter Weekend Festival on April 8th and 9th 2023, with weekend tickets on sale for £120+ and available via a payment plan split over the next 12 months. Tickets go on sale at 9am Friday 22nd April. Up next though is Terminal V Halloween, the annual alternate event with details of which will follow soon.
This was the first festival of the year and undoubtedly the most impressive and grandest Terminal V to date and quite possibly the biggest event of its kind Europe has seen in a long time. The whole of Edinburgh's Royal Highland Centre was transformed into an alternate electronic music reality across multiple warehouses with no fewer than six utterly unique stage designs and carefully curated line-ups in each.
The production was cutting edge and mind-bending, with loud and proud sound systems, futuristic light shows and visuals that were off the chart. Each set was a real spectacle, with earth shattering sounds and sensory stimulating production adding extra levels of magic each and every time.
Even the weather held out to make for an extra special atmosphere as people travelled from all over the UK and even Europe to attend this much vaunted party. This year there was a big demand for the local Scottish heroes who lined-up and the highlights came thick and fast, with Ewan McVicar's set in the Greenhouse causing plenty to talk about while the ever more essential Fraz.ier was hugely impressive in the Blackbox + Area V stage.
Also, I Hate Models grabbing a Scottish flag from the crowd to wave during the end of his mesmeric set was an iconic moment and Amelie Lens bringing big, powerful techno to close down Saturday will not be quickly forgotten. Kerri Chandler was on top form holding it down on Sunday night in the Greenhouse and Tale Of Us brought an interplanetary melodic techno masterclass for their set which drew huge reactions.
Says Terminal V CEO Derek Martin, "It was an incredible weekend and certainly lived up to the hype after 2.5 years aways. We witnessed some incredible performances over our six newly designed stages and we had an amazing energetic audience in attendance over the two days. It feels great to be back, the wait was worth it! Roll on the festival returning again next year and our special Halloween event that will be announced very soon."
Fellow CEO Simon McGrath adds, "It's good to be back! After 2.5yrs since our last one, it was definitely an emotional return for us. Terminal V couldn't have gone smoother, great atmosphere all weekend, the weather and too many stand out moments to choose from. Already Looking forward to Terminal V Easter 2023 and Terminal V Halloween. They can't come quick enough!
This was a weekend of special memories and historic sets, all on a scale never seen before in the UK. It confirmed that Terminal V is back in a big way and is only set to continue to grow. There is no experience like it so make sure you get booking the next one because it will sell out.