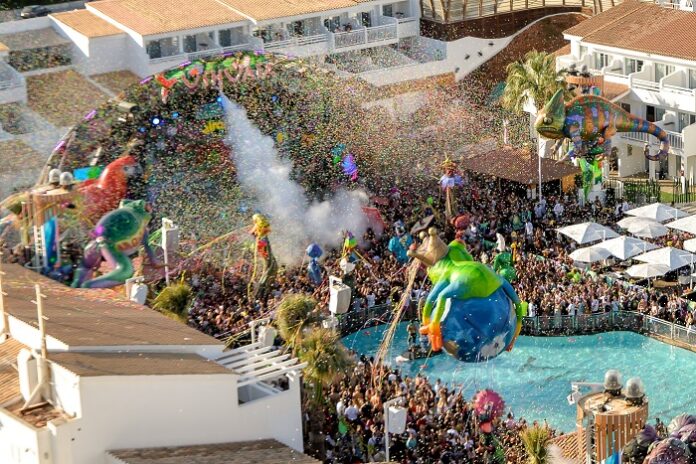 White Isle powerhouses Ushuaïa Ibiza and elrow come together for three wonderfully wild Wednesday shows this summer on 20th July, 17th August and 7th September. This iconic partnership lead to three historic events back in 2019 and now, two years later, they promise to be bigger and better than ever.
elrow is an iconic brand that puts on the world's most colourful and vibrant dance music experiences. It is an eye-popping party and a feast for all the senses. Each unique event entertains and amuses on a totally different level, with exuberant atmospheres and an infectious charm that makes for a special kind of magic on the dance floor.
Ushuaïa Ibiza is the largest open-air club in the world with a famous terrace that acts as the perfect canvas for elrow to cast their spell. Each scintillating event will be brought to life with movie-like production, high concept designs and out-of-this-world decor.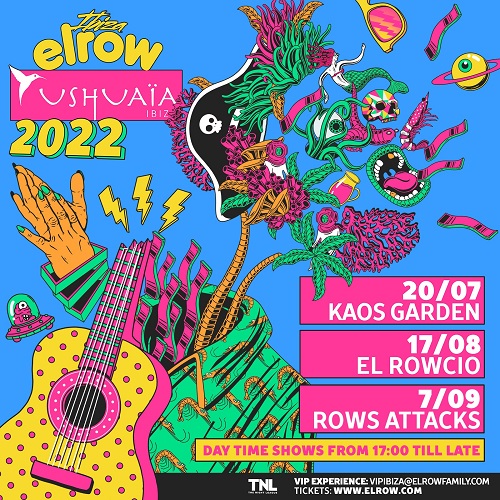 That means that as soon as you arrive, you will be transported into the elrow universe, deep in another dimension where reality turns into fantasy and dreams come true. As well as world-class sounds from DJs right at the forefront, you will be dazzled by dancers, doused in confetti explosions and wowed by all kinds of performers as giant inflatables add to the otherworldly experience.
Nothing is too far out for elrow, so forget what you think you know and prepare for three parties at Ushuaïa Ibiza that will be like none you have ever witnessed before!
THEMES:
Kaos Garden by Okuda San Miguel
Artist Okuda San Miguel joins elrow to mix art and entertainment. Dancing in Kaos Garden is dancing in his world, a world created from his favourite work: The Garden of Earthly Delights.
The Rowcio
One of the most emblematic themes. Discover your most folkloric side in this particular elrow version of the "Feria de Abril de Sevilla".
Rowsattacks
The elrow interstellar station with a large rocket as its main element will take you straight to RowsAttacks. During this journey, you will travel between flying saucers full of aliens and astronauts. A universe full of galaxies, planets, satellites, stars and stars awaits you.