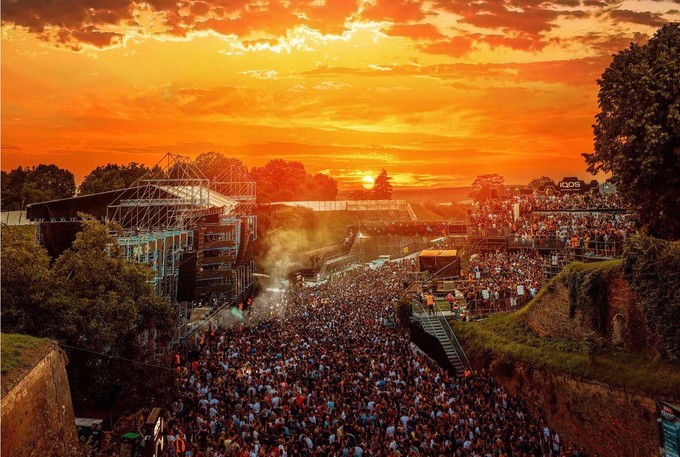 EXIT Festival are very proud to announce the absolute cream of dance music producers and DJs to their MTS Dance Arena line up.
Many international acts will be appearing on this epic stage for the first time, in what is set to be one of the most spectacular years yet for the award winning Serbian festival. The likes of Adam Beyer b2b Enrico Sanguiliano, Mochakk, Blond:ish, Stephan Bodzin (live) and Artbat will share the hallowed Dance Arena stage with the already announced ANNA b2b Sama' Abdulhadi, Anfisa Letyago, Reiner Zonneveld (live), Maceo Plex, Denis Sulta, Brina Knauss, Honey Dijon, Mathame, Boris Brejcha, Monolink and Satori, with more still to come.
EXIT have also announced a stellar line up for their No Sleep stage with the likes of Gerd Janson, DJ Tennis, Andhim, BĘÃTFÓØT Live and more keeping partygoers partying into the early hours. Along with these two the cult-like Urban Bug stage has also announced more then 30 local and regional artists to its line up.
All will be joining previously announced megastars – Calvin Harris, Nick Cave & The Bad Seeds, James Arthur, Masked Wolf, Joel Corry, Jax Jones, Boris Brejcha, Honey Dijon, Maceo Plex, Reiner Zonneveld, Monolink, Denis Sulta, Mathame, ZHU, ACRAZE, Sama' Abdulhadi, ANNA, Sepultura, Napalm Death, Marky Ramone, and many others.
This year's edition of the EXIT Festival will carry the slogan "Together. Always!" and will be taking place 7th – 10th July at the Petrovaradin Fortress, Novi Sad, Serbia.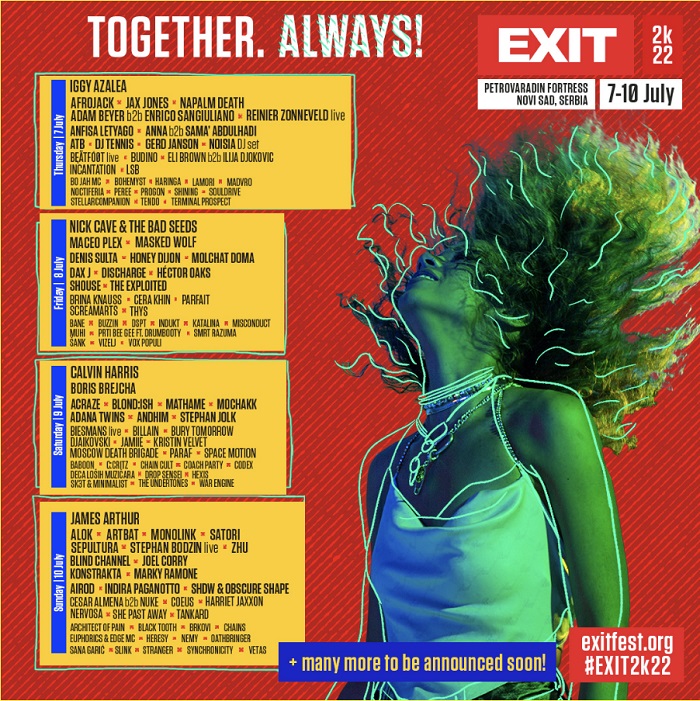 With lowest price tickets set at €95 (as part of the group offer) EXIT is also one of the most affordable festivals on the circuit – a bargain taking into account they boast one of the best festival line ups this year!
MTS DANCE ARENA STAGE
EXIT's internationally-renowned MTS Dance Arena stage has a rich history of putting on the wildest parties in the world, with the likes of David Guetta, Carl Cox, Nina Kraviz, Peggy Gou, Avicii and many more all having graced the world famous stage in previous years. The 2022 edition of the festival is no exception, with Adam Beyer b2b Enrico Sanguiliano, Mochakk and Blond:ish joining the likes of the already announced Honey Dijon, Maceo Plex, Denis Sulta and many more. Ukrainian superstar duo Artbat will be closing the stage on Sunday night in what is set to be the party of all parties.
Drumcode founder and internationally adored Swedish DJ / Producer Adam Beyer is confirmed to go b2b with the inimitable Italian Drumcode regular Enrico Sanguiliano, in one of the most anticipated MTS Dance Arena b2b's yet. Renowned for his unwavering dedication to producing the most exciting techno on the scene in recent years, Adam Beyer is a perfect compliment to Enrico Sanguiliano and his undisputed passion for dance music – their b2b will be history in the making for EXIT's MTS Dance Arena in 2022.
Also joining them on one of the biggest dance stages in the world are Brazilian DJ / Producer Mochakk, influential German DJ Stephan Bodzin with a special live show, Ukrainian electronic duo Artbat and the inimitable Canadian producer Blond:ish, making the Dance Arena one of the most unmissable stages on the festival circuit in 2022.
NO SLEEP NOVI SAD STAGE
For the last 6 years No Sleep Novi Sad has brought the world's most renowned clubs to EXIT's Petrovaradin Fortress and in 2022 they aim to set the bar even higher with their most exciting line up yet. Being the second biggest dance stage at EXIT Festival is no easy task, however with the likes of clubs such as Fuse, Avant-Garde, Tresor, Concrete and many more appearing in recent years, No Sleep Novi Sad is set to wow the EXIT partygoers with an unbeatable array of talent.
This years No Sleep Stage is set to be the biggest yet – Thursday (7th July) will see Manfredi Romano's Life & Death label and brand take the helm, bringing with them the absolute cream in international talent including BĘÃTFÓØT (Live), DJ Tennis, Budino and Gerd Janson.
Friday (8th July) will be hosted by none other than Parisian hard techno specialists Possession, pushing gender barriers in dance music with the likes of British techno king Dax J, Hector Oaks, Parfait, Katalina, Muhi and Cera Khin on DJ duties.
Saturday (9th July) will see Berlin's integral dance space Watergate take the helm – with a customary stellar line up including Andhim, Adana Twins, Biesmans (Live), Stephan Jolk and Kristin Velvet b2b Jamiie.
The final night on Sunday (10th July) will see the colossal Madrid club powerhouse Fabrik bring on board their monthly night Code to shut down the festival in true spanish style. They'll be bringing an incredible roster of DJ's including the likes of Indira Paganotto, Shdw & Obscure Shape, Airod, Cesar Almena and Nuke.
More than 1000 artists are set to play EXIT 2022 across over 40 stages and festival zones making it an unmissable edition to the 2022 festival calendar.