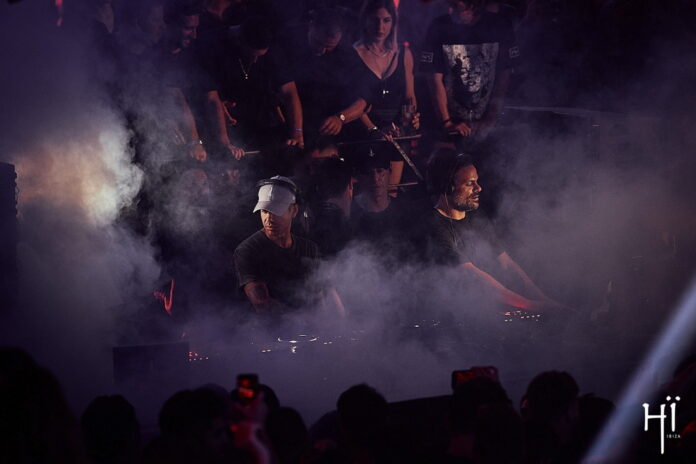 One more time the hard-working team behind The Night League, Encode Talent and Hi Ibiza put on another spellbinding show together with one of the world's most immersive electronic dance music events, Afterlife, and it was definitely one for the ages!
On its third showcase this year on the White Isle, Tale of Us' Afterlife charmed its audience with 10 hours of awe, wonder, an incredibly aesthetic atmosphere, excellent music, epic lasers, mind-blowing NFT's, CO2 cannons, face-melting bass, and a whole lot of love. Even the most experienced and well-versed ravers in attendance at the world's number 1 club according to DJ Mag, Hi Ibiza will be quick to call it one of the best dance music events on Ibiza over the last few years.
The world-renowned event at Hi Ibiza captivated the hearts of the guests who were lucky enough to score a ticket and enjoy the live performances of some of the biggest acts in the electronic dance music industry.
Everybody was picking their jaws up off of the floor following powerful live sets from multi-talented DJs and producers such as Tale of Us, Colyn, and Massano in Theatre, Chris Liebing, Daria Kolosova, and Ubbah in Club and Coeus in Wild Corner. The organizers made certain that there was something for everybody, and that the many angles of the versatile dance music culture were made available to the Afterlife family.
Afterlife's event in Hi Ibiza was definitely one of their best this summer. Those that did not get to experience it firsthand should check out some videos online and prepare for the next gig because the show runs every Thursday from July 7th to September 22nd.
Expect Tale of Us to serve up plenty of their essential hits as well as many awaited IDs, along with their famous stage presence and boundless energy, all of which will be matched by the next-level production at Hi Ibiza, including cutting-edge visuals and dazzling light shows.
Tickets available HERE!