Today New York City's premier underground event promoters Teksupport have announced a special, open air show at Brooklyn's 99 Scott on September 2nd featuring a rare NYC performance from Ricardo Villalobos alongside some of house and techno's most respected acts.
Minimal pioneer Ricardo Villalobos will be gracing the decks at 99 Scott for an ultra rare set, serving as his first ever NYC performance outside of Time Warp US. The Chilean-born German producer remains one of the electronic space's most revered icons, a reveler of the afterhours atmosphere and champion for the avant garde.
Three special back to backs further elevate the lineup as Detroit techno maestro Carl Craig goes B2B with a special surprise guest, rising Turkish DJ O.BEE goes B2B with Colombian DJ/producer Tomas Station, and Brooklyn-based DJs Maksim and Rasho go B2B. The lineup continues with NYC's Mink who is fresh off Circoloco Ibiza performances and Canada's Maher Daniel.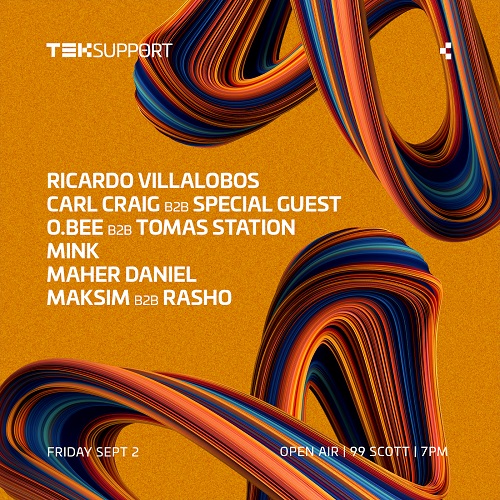 The event will be held from 7pm – 4am at 99 Scott's industrial courtyard space as Teksupport further cements their reputation for pairing raw spaces with world class event production and top-tier musical curation.
Tickets on sale on Aug 4 at 12pm EST.