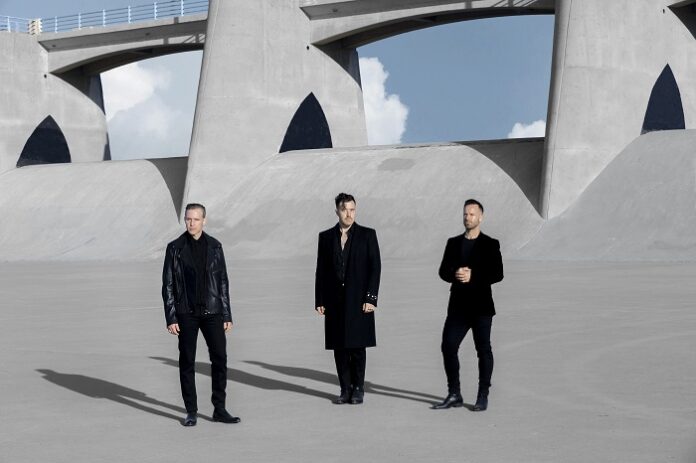 Grammy-winning live electronic trio James Hunt, Tyrone Lindqvist and Jon George aka RÜFÜS DU SOL have released their new curation project, "Surrender Remixes".
Released on their own Rose Ave/Reprise and Warner Records, the band have enlisted a heavyweight assembly of world-class production talent featuring friends and peers from across the spectrum of the electronic underground, to reimagine their landmark fourth studio album, "Surrender".
Released in October 2021 and featuring Grammy-winning single 'Alive', "Surrender" was written in the band's studio in Hollywood. Citing Nine Inch Nails, Moderat and Radiohead as just a few of the myriad and eclectic sonic influences informing their production techniques on the record, the result was bold, brave and their most celebrated release to date. The LP has already been streamed over 1.5BN times, premiering as the #4 most popular album on Spotify in the US and #6 globally and #1 dance album on iTunes and Apple Music.
The greater project features key cuts from German melodic techno icons Monkey Safari, Istanbul's hotly-tipped selector Carlita, Diymanic head-honcho Solomun and label mainstay Magdalena, the band's longtime collaborator, Rose Ave label-mate and mix engineer Cassian and fellow Australian production talent Dom Dolla. Tale of Us's Anyma steps up to remix the band's track "Alive", which won the band their first Grammy last year, along with stellar reworks from Afterlife resident Colyn, Adana Twins and more.  Listen HERE.
The first drop from the fourteen track "Surrender Remixes" came on July 2 from Swiss production duo and CircoLoco residents Adrian Shala and Adrian Schweizr aka Adriatique. The duo step up to remix "On My Knees", one of the standout moments from the album – a brooding insight into RÜFÜS DU SOL's darker tendencies, which toys with honest emotions and aching lyricism, demonstrating what makes the band so unique in the electronic space. Adriatique's remix has already seen key club support from the Keinemusik crew and Camelphat. Listen HERE.
In RÜFÜS DU SOL's own words, "We're so excited to have curated this collection of tracks geared for the dancefloor from artists we love and respect from around the world. Hearing these amazing artists all breathe new life into our music in their own ways is such a treat for us. We've been road-testing these in our DJ sets all year, they've been going off. Sad to let go of some of our secret weapons, but we can't wait for everyone to hear the full fourteen tracks."
The band have also released the pre-order for the long-awaited vinyl pack of "Surrender". A double disc set pressed on dramatic red wax, the package includes exclusive liner notes and single artwork sure to excite collectors and fans alike. Pre-order HERE.
As a continuation of RÜFÜS's ethos of creating immersive worlds for their fans to explore, the band have launched a fun AR experience for fans to enjoy alongside this wave of news. Explore it now with a smartphone or tablet HERE.
In this landmark year which has seen so many return to touring, RÜFÜS DU SOL have played a string of critically lauded and momentous live shows, including two recent sold out shows at New York's Forest Hills Stadium. This July and August the band are heading back to their underground roots to play a select string of sets in some of clubland's most coveted and notorious dancefloor slots – including DC10 for CircoLoco, Hi Ibiza for Afterlife opening an Scorpios Mykonos.
Following their European triumph, the band will return to the US to take over key venues like Los Angeles' Hollywood Bowl, Colorado's Red Rocks Amphitheatre, and Washington's The Gorge Amphitheatre before bringing their iconic live-show back to the homeland for a run of dates across Australia.
"RÜFÜS DU SOL" SURRENDER REMIXES // TRACKLIST
Disc 1
1. Next to Me – Vintage Culture Remix
2. Make It Happen – Dom Dolla Remix
3. See You Again – Carlita Remix
4. I Don't Wanna Leave – Innellea Remix
5. Alive – Anyma Remix
6. On My Knees – Adriatique Remix
7. Wildfire – Colyn Remix
8. Surrender feat. Curtis Harding – Magdalena Remix
9. Devotion – Luke Alessi Remix
10. Always – Monkey Safari Remix
Disc 2
1. Next to Me – Adana Twins 'A Night At Revolver' Version
2. Alive – Solomun Remix
3. On My Knees – Cassian Remix
4. On My Knees – Oliver Schories Remix
Stream and Download "Surrender Remixes" HERE.