This year's event is scheduled to take place on the 22nd of October during Amsterdam Dance Event. AMF is expected to welcome an astounding 35.000 people from over 120 different nationalities.
All tickets for the celebratory 10th edition of AMF have been sold out. The event takes pride in its hugely diverse audience, having sold about two thirds of the 35.000 to visitors from outside of the Netherlands. Over 120 different nationalities will be represented, perfectly embodying the unification that dance music stands for.
AMF 2022 will see performances by several of dance music's biggest stars, including Armin van Buuren, Martin Garrix, Tiësto, Afrojack and Nicky Romero. As well as boasting a superstar line-up, AMF will play host to the annual DJ Mag Top 100 ceremony, revealing the world's most popular DJ of the year.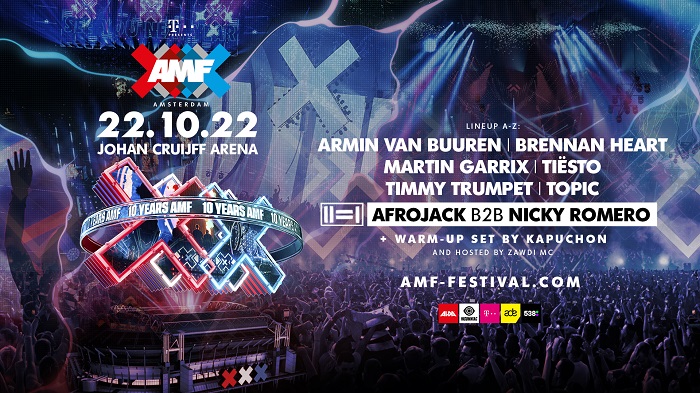 Here's what Allan Hardenberg, founder and CEO of ALDA, the production company behind AMF had to say about this year's editon:
"With the upcoming edition of AMF being our tenth anniversary, this one is obviously extra special to us. Having sold out this far in advance is really the cherry on the cake, especially given the recent struggles within the event industry. We've always catered to a big international audience so it's simply incredible to see the statistics of our ticket sales. So many people from so many different nationalities all united in a packed ArenA, we couldn't think of a better way to celebrate this milestone"
Over the past decade AMF has grown into the biggest event taking place during Amsterdam Dance Event. World-renowned for its stellar production, impressive location and unmatched line-ups, AMF is the place to be during the conference for the ones lucky enough to get their hands on a ticket. Across its ten editions AMF has seen performances from the world's biggest acts, from Martin Garrix to Armin van Buuren and The Chainsmokers to Alesso. This year's event will be a tribute to the decade's great success, as well as a preview of what ALDA has in store for the future.
Whereas a line-up of these proportions is more than enough to make waves in the dance music scene, the annual DJ Mag Top 100 ceremony is sure to add fuel to the fire. The yearly unveiling of the world's most popular DJ has amassed a cult-like following, each eager to find out if their favorite will take home the crown. Previously the list was topped by David Guetta, Martin Garrix, Armin van Buuren and Tiësto, the latter three of which are on AMF's 2022 line-up. The DJ Mag Top 100 has played a huge role in the crossing over of dance music into pop culture, many of its high performers are currently also regularly present in the pop charts.
The doors will open earlier than normal for a special warm-up set by none other than Afrojack's techno alias Kapuchon. A select part of the audience will be treated to an hour long set, which will also be streamed live on AMF.TV. During the 2020 digital edition, AMF.TV was watched around the world by a staggering 7 million people.