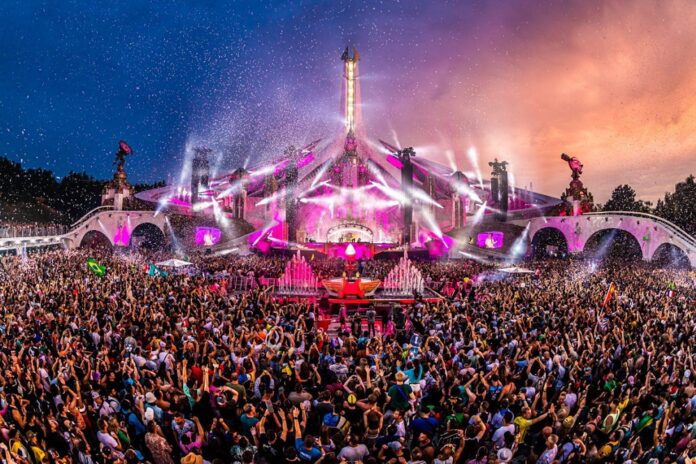 'We Are Tomorrow', produced in collaboration with Amazon Music, portrays the unique journeys of DJ Topic and the making of his exclusive track 'Saving Me', world-renowned chef and Tomorrowland Foundation ambassador Gaggan Anand, Kenyan mother and business owner Vicky Tah and Mainstage dancer Kelly De Clercq.
The summer of 2022 will be remembered as magical and memorable… Tomorrowland, one of the world's most iconic festivals, is celebrating its legendary three-weekend return by releasing a mini documentary about the whole world coming together in one magical place and uniting as one through the universal language of music.
Produced in collaboration with Amazon Music, 'We Are Tomorrow' covers the unique journeys of four People of Tomorrow attending the Belgian festival: German DJ & producer Topic, Indian-born world-renowned 50 Best chef Gaggan Anand, Kenyan mother and business owner Vicky Tah and Belgian female Mainstage dancer Kelly De Clercq. The short film will be available to stream on YouTube and Amazon Music on Tuesday September 20.
After a two-year break, Tomorrowland returned in July 2022 for its 16th edition revolving around this year's theme 'The Reflection of Love' and expanded to an unprecedented 3 weekends, again welcoming hundreds of thousands of People of Tomorrow to its fabulous wonderland with electronic music's biggest stars in Boom, Belgium.
Being a home to people from all walks of life, one of the most unique things about Tomorrowland remains the whole world coming together with everyone being equal and uniting as one through the universal language of music, which was beautifully captured in 'We Are Tomorrow'.
Directed by Wim Bonte, the 24-minute poetic and aesthetically stunning documentary film follows the journeys of DJ Topic, Gaggan, Vicky and Kelly, each telling personal stories on what Tomorrowland means to them, alongside spectacular new footage of the festival. 'We Are Tomorrow' gives viewers an intimate look at the iconic music festival right from their homes, portraying the different protagonists in a raw and authentic way in the studio, at home, during rehearsals and joining the celebration on the festival grounds.
DJ Topic
German DJ & producer Topic blew up during the pandemic and cemented himself as one of dance music's premiere beatmakers with many viral worldwide hits. Despite racking up billions of streams across platforms, he remained new to the big stages. Topic created the exclusive and entirely new Amazon Original song 'Saving Me', an uplifting rework of his global smash hit 'Breaking Me', specially made for his Mainstage performance at Tomorrowland in July, something he had always dreamed of. The rework with vocals by American singer-songwriter Sasha Alex Sloan also forms the backbone of the film's original score.
Here's what Topic had to say about it:
"I'm very happy that I had the opportunity to rework 'Breaking Me' as it's a very special song for me. It has opened so many doors for me and it's safe to say the path that I'm on right now never would have looked this promising without it. Part of this journey is realizing my dream to play at Tomorrowland. I'm very grateful that I can celebrate it with this uplifting rework, which has its roots in the beginning of my career, but also resembles my development over the past couple of years."
Gaggan Anand
Indian-born world-renowned 50 Best chef with an inspiring life story: Gaggan Anand grew up in poverty in the slums of Calcutta but managed to become the most awarded chef in Asia whose Bangkok restaurant ranked number 1 among Asia's 50 Best Restaurants a record four times. The culinary game changer brought his explorative gastronomy to Tomorrowland last summer, hosting his very own Chef's Table with a magnificent view of the legendary Mainstage, as well as curating an exquisite menu for the Tomorrowland Restaurant. This summer's proceeds will go to the Tomorrowland Foundation for the construction of a brand-new Music & Arts School in India, which will be officially inaugurated by Gaggan in December.
Vicky Tah
Vicky is a proud mom and business owner born in Nairobi (Kenya), an African city with a thriving dance scene. She grew her love for music when she visited Tomorrowland for the first time in 2013 and became part of an 80-member Tomorrowland Family. After the loss of her husband earlier this year, her Tomorrowland Family organized a fundraiser to make sure she could still make it to the festival this summer.
Vicky: "I met my Tomorrowland Family back in 2013. Ever since then, they've been an integral part of my life, especially in the last year when my husband passed away. Everything changed financially, so Tomorrowland was nowhere in the near future for me. I informed the Tomorrowland family that I couldn't come. They considered what was going on and they came through. They gathered and managed to get funds for my plane ticket. I really appreciate all the love and support; this is what you call united forever."
Kelly Declerq
Kelly is a female Belgian dancer at Tomorrowland, for whom dancing means everything. She went through a tough time during the pandemic, but dancing helped her as her outlet, pleasure and therapy. Kelly is now even going to study dance therapy to help others with her experience. Last summer, after the uncertainty of the past years, she finally returned to dance on the legendary Mainstage to be a part of the magical opening and closing show, witnessed by millions of people around the world.
Watch 'We Are Tomorrow' on September 20th here.