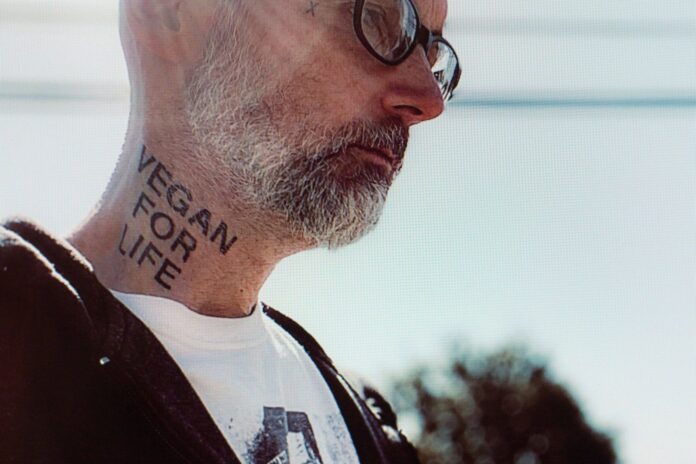 Moby shares "Rescue Me," a new track written exclusively for "SLAY," a feature documentary from the makers of "Cowspiracy" and "What The Health," which looks into the ongoing use of animal skins – leather, fur, and wool – within the fashion industry. The musician, producer and animal rights activist has been vegan for 35 years.
"SLAY" launched on the 8th of September exclusively on WaterBear, a free streaming platform dedicated to the future of our planet. The documentary seeks to expose unethical practices whilst showcasing practical solutions.
Available to stream during the coveted 'fashion month,' "SLAY" showcases investigative footage captured over the course of three years by filmmaker Rebecca Cappelli. "SLAY" follows the industry's supply chains and their impact on the environment, including leather tanning's water contamination, deforestation, animal suffering on fur factory farms and in the wool processing supply chain, and modern-day slavery.
Here's what Moby had to say:
"One of my goals is to use whatever resources I have to end the use of animals for food and fashion. It makes me incredibly happy to be able to use 'Rescue Me' to draw attention to Rebecca Cappelli's remarkable film, 'Slay.'"
The film brings together a host of experts and campaigners, including TV personality and influencer Lucy Watson, Founding Director of Collective Fashion Justice Emma Håkansson, CEO of Red Carpet Green Dress Samata Pattinson, Fashion Journalist and Sustainability Activist Bandana Tewari, and vegan educator and author Ed Winters aka Earthling Ed. Filming took place in Australia, Brazil, China, India, France, Italy and the U.S.
Viewers are taken inside factories and farms to uncover the dark side of fashion. By highlighting the extent of greenwashing in the fashion industry, "SLAY" debunks myths about animal skins being a sustainable material.
According to exclusive data shared by Good On You, fashion's leading brand rating platform, animal products remain pervasive in fashion today. In analyzing thousands of fashion brands, Good On You reveals 68% of brands today use some animal products in their collections. For the largest and most profitable brands, 91% are using animal products.
"The suffering of animals in the fashion industry is greenwashed into oblivion while those skin industries are destroying the planet and harming people," says Rebecca Cappelli, Director, and Producer of the film. "'SLAY' aims to challenge the notion that animal skins are a fabric, and open people's eyes to the dark realities behind some of the most sought-after skins in fashion."
However, there is hope, with alternatives to animal skins and furs growing year on year, solutions vary from puffer jackets made from 100% recycled bottles, animal-free leather developed from pineapple leaf, mushroom or apple, and plant-based wool grown from flowers.
Founding Director of Collective Fashion Justice Emma Håkansson says:
"It's time for the fashion industry's idea of 'sustainability' to consider the reality that we can no longer sustain injustice for profit — whether it be against humans or the animals we share this planet with. We need a total ethics fashion system."
"SLAY" is available to watch exclusively on WaterBear – the streaming platform dedicated to the future of our planet – with access to charity partners and NGOs also available via the platform. "SLAY" will also be available on further platforms from late September onwards.
Multi-platinum-selling, multi-award-winning singer, songwriter, producer, author, and animal rights activist Moby launched his new label "Always Centered at Night" earlier this year, with the aim to do something uncompromising – to make music that is emotional, atmospheric, and potentially beautiful.
With this ethos, the label brought us its debut release Medusa, a collaboration between Moby and Grammy-nominated artist and Doja Cat collaborator Aynzli Jones, and, most recently, On Air, which brought down the pace and intensified the mood with New York based experimental musician serpentwithfeet.
Watch the official video below!