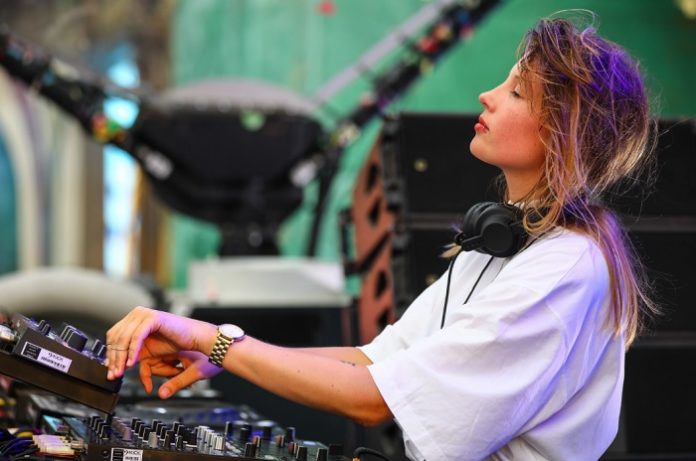 The exclusive, limited collection is available at the Filling Pieces store for a KNTXT pop-up collaboration from Wednesday October 19 until Sunday October 23, and online from October 20.
Charlotte de Witte's label KNTXT teams up with Amsterdam-based fashion brand Filling Pieces to launch an exclusive collection, designed jointly by Charlotte and Filling Pieces founder Guillaume Philibert. The exclusive collection launches during Amsterdam Dance Event (ADE) at the Filling Pieces flagship store in Amsterdam from October 19-23.
Charlotte de Witte's record label KNTXT and high fashion streetwear brand Filling Pieces have co-designed three limited-edition pieces. Merging KNTXT's signature underground style and characteristic 'X' with Filling Pieces' exclusive designs and expertise, the collection is a perfect representation of both brands. As the dance music community gathers in Amsterdam for ADE, the collection will be available at the Filling Pieces store for an exclusive KNTXT pop-up.
The collaboration between KNTXT and Filling Pieces is based around the concept that "No label can hold us." Music should always be a space where no one can put you in a category by the way you dress, which skin color you have, or your gender/sexual orientation.
The concept makes use of a very simple set while having a strong cast that features a variety of differences. By tapping a mixed cast and using a uniform look (with the same styling used on all) the collaboration seeks to remove the labels some might feel from the outside world, breaking the stigma of external dogmas put upon us.
Featured in this exclusive and limited collection are the KNTXT flannel jacket, the Leather Card Holder CdW, and the Jenn Boot Coal, a custom-branded, sturdy leather boot that borrows inspiration from the classic combat silhouette.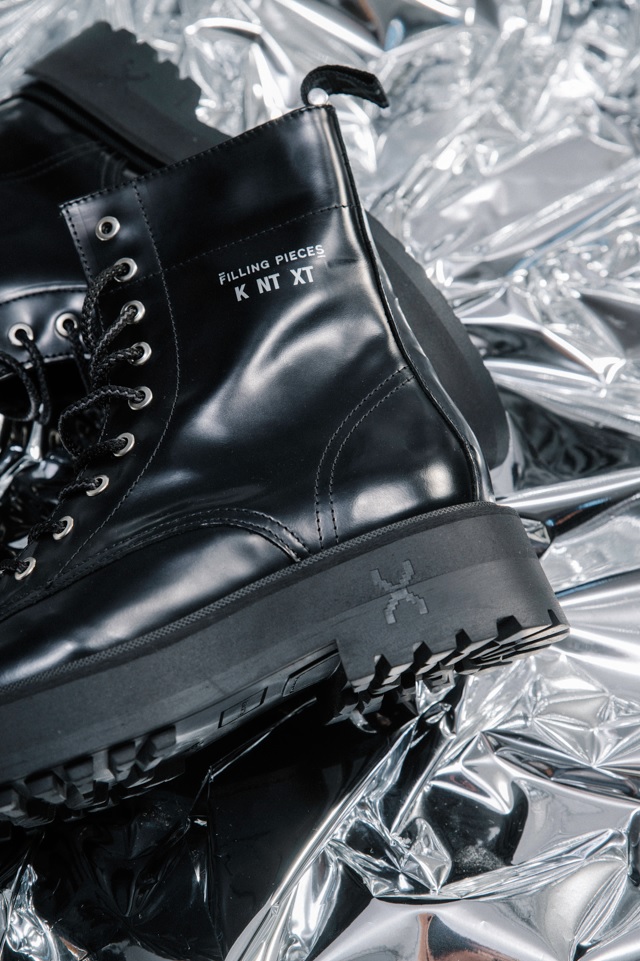 Charlotte de Witte and KNTXT are in for a busy ADE, taking over the Filling Pieces store for four days, collaborating with Loop Earplugs on limited, co-branded editions of Loop's bestselling Experience earplugs, which will be available for purchase at the pop-up store, speaking on one of the conference's panels, and selling out the massive Ziggo Dome on Friday October 21st for a true KNTXT triumph, presenting some of the finest artists like Enrico Sangiuliano, FJAAK, I Hate Models, Indira Paganotto, Onyvaa, and of course label head Charlotte de Witte.
In 2015 Charlotte de Witte founded her flagship, KNTXT, which has grown from a live event to a boutique label that organizes events, releases music and curates radio shows. KNTXT has collaborated with brands such as Belgian activewear brand 4254 and Danish audio design company AIAIAI, has its own curated platform on Apple Music and is now thrilled to be making further steps in the fashion world by collaborating with Filling Pieces, an exclusive high-end streetwear brand at the forefront of its industry.
If all of that wasn't enough, Charlotte just released her brand new 'Apollo' EP on October 14th, a follow-up to her April EP 'Universal Consciousness'. Known for her dark, stripped-back brand of techno, acid and anything high energy, the 4-track EP is an uncompromising collection of club tracks.
The exclusive KNTXT x Filling Pieces collection is available at the Filling Pieces Flagship store, from October 19th until October 23rd, and online from October 20th.