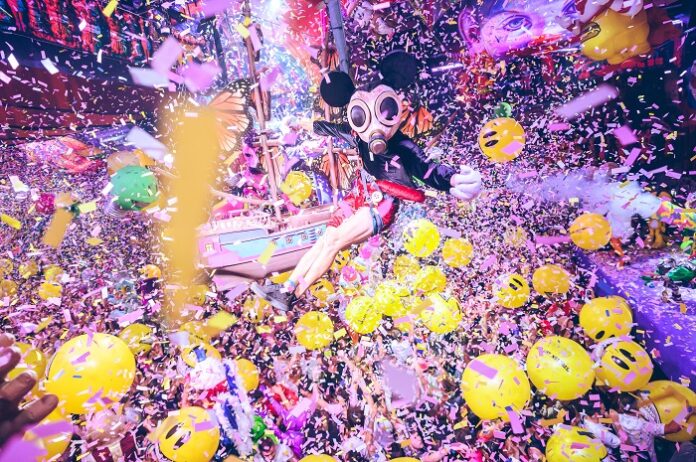 The world's most infamous immersive event brand, elrow, is excited to unveil the lineup for their most epic theme yet, Delusionville.
Held in Miami's sprawling new Factory Town venue, Delusionville will be making its first and only showing in the USA during the esteemed Art Basel week in Miami on December 1. Dubbed as an XXL-sized edition, Delusionville will put on display some of the most in demand DJs from underground house and techno into an immersive, technicolor explosion of surrealism, pop-art mashups and mind-twisting production.
"It is wild that elrow and my team have created Delusionville's world in a real-life scale. I couldn't imagine a more impactful way to bring my universe to the audience." – Ron English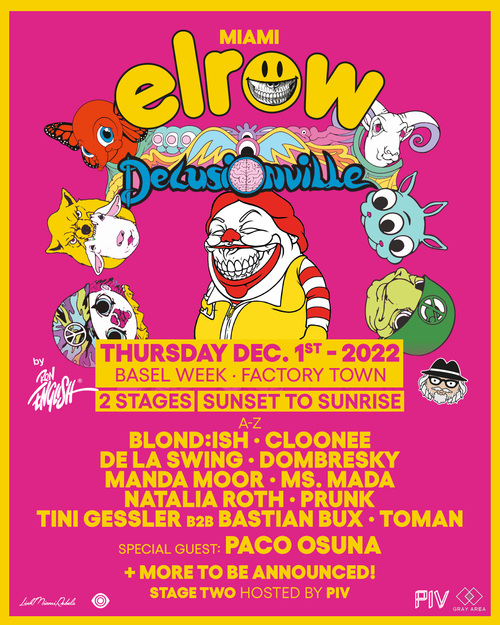 "This is our best theme to date, the brand continues to evolve, and this time it does so with the help of Ron English, recreating his world in a unique and super realistic way. I feel we have exceeded ourselves in mixing art, music and party. We have opened new creative frontiers." – Juan Arnau (elrow Founder)
Providing the Delusionville soundtrack for the unique sunset-to-sunrise mini festival are the world's most crafty, forward thinking iconic DJs. Since elrow is in the business of spreading happiness, with her fun, positive and beautifully rhythmic selections, there's no one better suited than avant-garde artist, activist BLOND:ISH to set the tone for the all inclusive atmosphere that will take attendees to a happy world at Delusionville.
Joining her is the sonically detailed, ever adventurous, Paco Osuna, a staple name in the elrow family. Plus disco house purveyor Dombresky, UK beatsmith Cloonee, Spanish sensation De La Swing, the dazzling Manda Moor, as well as an exciting B2B between elrow resident Tini Gessler and Bastian Bux.
Hosting the second stage is the label Piv, the prestigious imprint of widely celebrated Dutch-Indonesian artist, Prunk. Joining him will be one of the scene's most beloved emerging talent's, Amsterdam's very own Toman, and Queens of the groove Ms. Mada and Natalia Roth.
Delusionville at elrow is a live reinterpretation of the famous POPaganda art movement, the fruit of the imagination of the creator and founder of POPaganda, Ron English. Taking direct inspiration from the legendary Andy Warhol, English merges American iconography with art history to create social and political statements about contemporary American society. From Ronald McDonald to Mickey Mouse, no cultural icon is sacred. Speaking to Delusionville's leitmotif, Ron says, "I think life is more exciting if you do things your way, even if it's not in the way or in the order that everyone expects."
"At elrow, we are fascinated by creative, visionary and daring minds. We are always working on breaking the limits of our shows. Now we want to impress our fans again, no more and no less, with a tailor-made collaboration with Ron English, the "godfather of Street Art." – Juan Arnau (elrow founder) adds.
Delusionville is one of the most extensive modern urban art galleries, featuring a cast of characters that live in an upside-down, underground world where everyone's social position is revered. Delusionville is a universe where the characters are animals instead of people, who have their own religions, politics and customs.
What to expect?
After recently selling out Ibiza's closing party at Amnesia, putting in over 6,000 hours of work, with 135+ workers and 80+ art pieces, the world's wildest party brand elrow is now excited to bring their newest immersive experience yet, Delusionville, from the White Isle to America. Ron English, who's particular style and extraordinary interpretation of the most radical, satirical and humorous art will be reflected in this journey into pop art culture at elrow.
Like all elrow gatherings, attendees can expect to leave reality behind as they enter this new world that has its own rules and its own being. On December 1, Factory Town will transform into a inverted subterranean world with metamorphic landscapes populated by anthropomorphic animals grappling with delusions of ecstasy and heartbreak as music pulses from sunset to sunrise from the scene's most dynamic DJs. Think of it like Aesop's Fables meets Animal Farm. Delusionville's cast of characters span the social hierarchies of history, from the mighty buzzards to the lowly wolves, the earnest sheep to the enterprising pigs, giving voice to the greatest delusion!
"We are thrilled to return to Miami for Art Basel and collaborate with famed artist Ron English. This will be the only opportunity in the US to experience his world of Delusionville at elrow. It's beyond anything we've ever done before. We're excited to collaborate with our new partners at Space Miami and bring Miami an epic, XXL sized elrow experience at Art Basel! " – Michael Julian, special advisor to elrow
This one-off mash-up between elrow and Ron English promises to be an unforgettable journey through the eccentric looking glass of two creative luminaries at the very top of their games, and a sensory artistic experience the likes of which has never been seen in America before.
Get ready to go down the rabbit hole with elrow and Ron in this unique 12-hour edition amidst the beautiful chaos of Delusionville. With his characters, his history and his narrative, there's no other artist that fits better with the concept of elrow. This is elrow's most powerful theme to date.